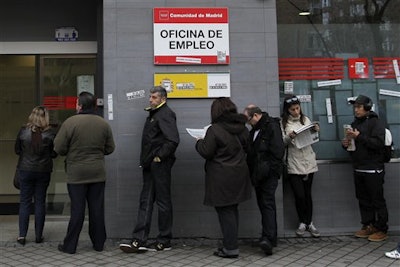 PARIS (AP) -- A report from a leading international economic body is laying out the hope that unemployment across the world's advanced economies may fall next year despite further rises in a number of European countries.
In a report Tuesday, the Organization for Economic Cooperation and Development is forecasting that the jobless rate for the countries that use the euro will rise from 12.2 percent to 12.3 percent by the end of next year, but many countries, like Greece, Spain and Portugal, will see a much sharper increase.
The OECD says young people and low-skilled workers have borne the brunt of the crisis.
For the 34-country OECD, unemployment is projected to fall slightly next year from 8 percent to 7.8 percent. The United States and Germany will both see unemployment fall significantly.