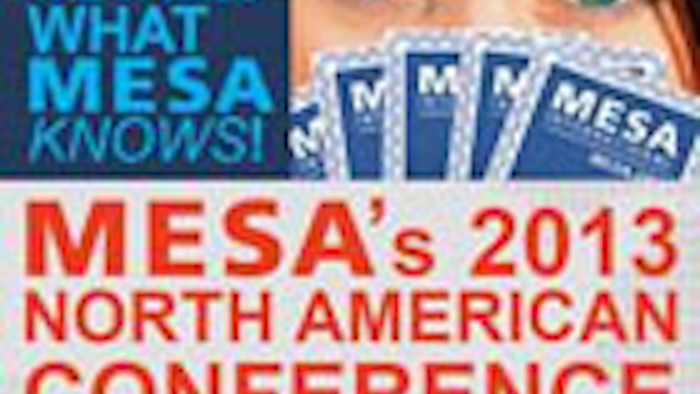 MESA's 2013 NA Conference will be held on Monday April 22nd with the IW Best Plants Conference to follow on April 23-24. 
Conference includes:
Manufacturing Technologies Strategies Track: Four MESA moderated sessions during the IW Best Plants Conference. We've got an exciting line-up that includes:
MESA International Business Forum: Open-to-the-public meeting which will include announcements of new board structures, the future of MESA and GEP, and an International Board meeting.  
MESA unConference: Open-to-the-public forum on Making Your Plants Operate Best. Bring friends, colleagues, and clients to these famous roll-up-your-sleeves sessions.

Session 1: The Value of Manufacturing Technologies in Continuous Improvement 1:00 pm - 2:30pm
Session 2: ROI & Justification for Manufacturing IT Solutions 1:00 pm - 2:30pm
Session 3: Improving Manufacturing Performance so Executives Notice 3:00 pm - 4:30pm
Session 4: Your Voice: What tools, technologies, education and capabilities you and your business need to thrive 3:00 pm - 4:30 pm
PLUS! This year we're offering the perks of IndustryWeek Best Plants.
World-class Networking: Over 800+ manufacturers, producers, press, and industry experts to network with at meals, receptions, and Tuesday evening's BMW Performance Driving High Speed Test Track event.  See the networking events here. 
VALUE: All of this for only $995 for MESA members and friends of MESA! Register here and use code: MESA.ORG