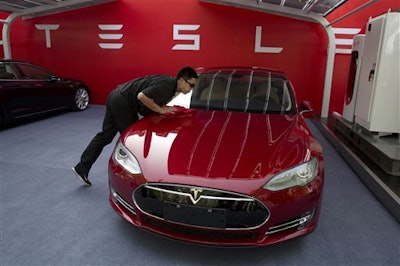 Competition continues to heat up in the jobs market as companies announce large-scale production looking for a place to call home — pitting states against each other to compete for the employment and economic benefits that come with these new production lines.  
In a recent AP story it was reported that Panasonic Corp. is considering setting up a new plant jointly with Tesla Motors Inc. in the United States to make lithium-ion batteries for electric vehicles. Currently, the electric car maker is considering sites in Nevada, Arizona, New Mexico and Texas for a massive battery factory that would be completed in 2017 and employ around 6,500 people.
As cities and states continue to recover from the Great Recession, the chance to inject their area with such a large number of jobs is quite appealing. Now it appears that just like the state incentive packages presented to Boeing when states were groveling for the 777x production, Tesla has received its first bid from Tucson, AZ.
As reported this morning, Tucson city officials confirmed Sunday that they have made a bid for electric-car maker Tesla Motors to consider Tucson for the site of the massive battery factory. The city of Tucson is offering tax incentives on top of any offered by the Arizona Commerce Authority for the 10 million-square-foot plant.
In a statement from Telsa, the company indicated that:
The Gigafactory is designed to reduce cell costs much faster than the status quo and, by 2020, produce more lithium ion batteries annually than were produced worldwide in 2013. By the end of the first year of volume production of our mass market vehicle, we expect the Gigafactory will have driven down the per kWh cost of our battery pack by more than 30 percent. 
Tesla has already released some details on the new Gigafactory. The company hopes to minimize costs through innovative manufacturing, reduction of logistics waste, optimization of co-located processes and reduced overhead. One of the ways they hope to achieve these goals is through the use of solar and wind power generators to run the factory, which would make sense why they're looking at the states that they are for this momentous project.
"We are the home to the Mars exploratory mission at the University of Arizona and known nationally as the Solar City," Mayor Jonathan Rothschild said. "I think Tesla will feel right at home in Tucson."
---
To read more by Jon Minnick, sign up for our newsletter. You can also follow Manufacturing Business Technology on Twitter @MBTwebsite.