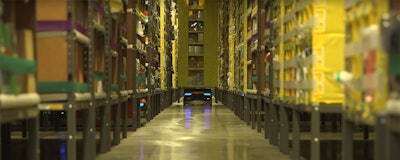 Robot orders and shipments in the U.S. set new records in 2015, with a substantial increase in their use in material handling and spot welding, according to the Robotics Industries Assn. (RIA), the industry's trade group.
A total of 31,464 robots valued at $1.8 billion were ordered from North American companies during 2015, an increase of 14 percent in units and 11 percent in dollars over 2014. Robot shipments also set new records, with 28,049 robots valued at $1.6 billion shipped to North American customers in 2015. Shipments grew 10 percent in units and nine percent in dollars over the previous records set in 2014.
The automotive industry was the primary driver of growth in 2015, with robot orders increasing 19 percent year over year. Non-automotive robot orders grew five percent over 2014. The leading non-automotive industry in 2015 in terms of order growth was semiconductors and electronics at 35 percent.
According to Alex Shikany, RIA director of market analysis, the fastest growing applications for robot orders in North America in 2015 were coating and dispensing (+49 percent), material handling (+24 percent), and spot welding (+22 percent). RIA estimates that some 260,000 robots are now at use in North American factories, which is third to Japan and China in robot use.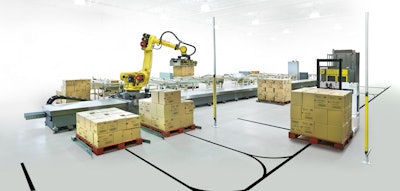 The recent record performance by the robotics market in North America is concurrent with falling unemployment. In January 2016, the Bureau of Labor Statistics said that the unemployment rate in the U.S. reached 4.9 percent, its lowest level since February of 2008.
Although some critics say the robotics industry is slashing jobs, others argue that the growth is fueling good paying jobs, such as robotics engineers. In fact, robotic engineering has become a popular class at various engineering schools around the country.
"Today there are more opportunities than ever before in the robotics industry," said Jeff Burnstein, RIA president. "The continuing growth in robotics is opening many new job opportunities for people who can program, install, run, and maintain robots. In fact, if you look closer at the jobs discussion, automation is helping to save and create jobs. A lot of companies tell us they wouldn't be in business without robotics and related automation."
And more companies are entering the field. Kiva Robots, a Massachusetts firm that was bought by Amazon for $775 million, is the most well-known. Amazon has some 30,000 robots in use at many of its fulfillment centers, doubling the number a year earlier. Kiva robots were once used by many companies, but now only Amazon uses them in their fulfillment centers.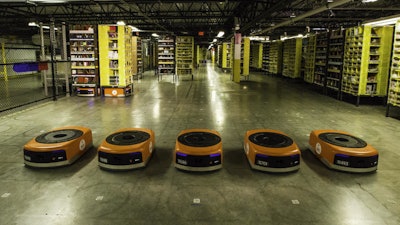 Still, new robotic companies are emerging as competitors. Tech Insider reported in the fall of 2015 that Locus Robotics launched a robotics line in its first warehouse in Devens, MA. The robots transport items that have been picked off the shelves by humans and bring them to the front of the warehouse to be packaged and delivered. At the time, the company reportedly had 10 robots in operation that cover about 500,000 square feet and are helping ship some one billion products annually.
"We developed a system where the robots do all the walking," Locus Robotics CEO Bruce Welty told Tech Insider. "As retailers continue to exceed expectation around next-day shipping, they're going to look to technology to help them provide an even faster turn-around."
The price of industrial robots is dropping substantially. The cost of the Locus robots is reported (though not confirmed) to be in the $30,000 to $35,000 range, for example, but can pay off quickly, Welty said.
In addition to work in the warehouse, robots are increasingly being used in manufacturing applications as well as in inventory work. In 2015 ID reported about a machine shop in Chicago using 21 robots that place metal parts into cutting machines and then remove them. Since then, the company was expected to increase that number and has freed up employees to work on other projects.
Another manufacturer automated its manufacturing process with robotics, and as a result, has doubled its number of employees by adding engineers and automated production specialist to its workforce.
The use of robots will grow as manufacturers and distributors look for ways to drive productivity, eliminate error, and reduce costs. That could mean that medium to large-size distributors will be examining the possibility of adding robots to their handling and shipping processes.