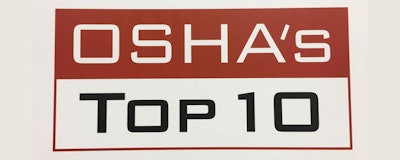 On Tuesday at the National Safety Council Congress & Expo in Indianapolis, the Occupational Safety and Health Administration (OSHA) announced its annual preliminary list of the top 10 most frequently-cited workplace safety violations. And to no surprise, Fall Protection remained No. 1 on the list that varies little year-to-year.
In fact, the top 5 remained the same as last year — with Hazard Communication at No. 2; Scaffolding at 3; Respiratory Protection at 4; and Lockout/Tagout at 5.
Fall Protection violations were responsible for 6,072 citations during NSC's fiscal year 2017, with preliminary figures as of Sept. 5. That number is down 857 year-over-year, or 12.4 percent, after rising by 208 from 2015 to 2016. Fall Protection took the top spot by a wide margin over No. 2 Hazard Communication — which had a whopping 1,501 less violations than a year earlier, a 26.4 percent drop. Scaffolding's citations also dropped by 618; Respiratory citations fell by 13.6 percent; and citations for Lockout/Tagout were down by 15.7 percent.
Ladders moved up one spot from last year's list to No. 6, with its 2,241 citations down by 15.1 percent year-over-year. It leapfrogged over Powered Industrial Trucks at No. 7, which had 24.4 percent fewer citations. Machine Guarding repeated at No. 8 despite a 21.1 percent drop in citations, while Fall Protection - Training Requirements is new to the list at No. 9 with 1,523 citations. Electrical - Wiring Methods repeated rounding out the list at No. 10, with its 1,405 citations down 17.5 percent year-over-year.
"The OSHA Top 10 is more than just a list, it is a blueprint for keeping workers safe," National Safety Council President and CEO Deborah A.P. Hersman said in a press release. "When we all work together to address hazards, we can do the best job possible to ensure employees go home safely each day."
| | | | |
| --- | --- | --- | --- |
| Ranking | Violation | Citations | Ranking Change from 2016 |
| 1. | Fall Protection - General Requirements (1926.501) | 6,072 | None |
| 2. | Hazard Communication (1910.1200) | 4,176 | None |
| 3. | Scaffolding (1926.451) | 3,288 | None |
| 4. | Respiratory Protection (1910.134) | 3,097 | None |
| 5. | Lockout/Tagout (1910.147) | 2,877 | None |
| 6. | Ladders (1926.1053) | 2,241 | +1 |
| 7. | Powered Industrial Trucks (1910.178) | 2,162 | -1 |
| 8. | Machine Guarding (1910.212) | 1,933 | None |
| 9. | Fall Protection - Training Requirements (1926.503) | 1,523 | N/A |
| 10. | Electrical - Wiring Methods (1910.305) | 1,405 | -1 |
IMPO Managing Editor Rachelle Blair-Frasier is attending the NSC Congress & Expo through Wednesday. If you'd like to have a chat with her or have her visit your booth, email [email protected] or [email protected]