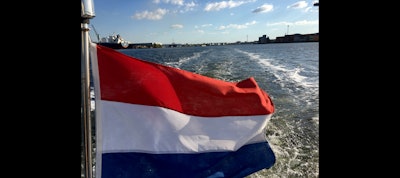 Greetings once again, ID readers, this time from U.S. soil.
My Netherlands trip ended Thursday, during which I spent 22 of its 31 hours (I gained seven flying back to Wisconsin) in transit. It wasn't until I woke up Sunday that I finally felt recovered from the time-shift.
As noted in my previous two blogs, last week I was on a logistics press tour around The Netherlands. Hosted by the Netherlands Foreign Investment Agency (NFIA), seven other supply chain-oriented trade publication editors and I were shuttled to various logistics facilities and organizations throughout the country — which is less than one-third the size of Ohio.
I was technically in Holland for five days, but my first (Sunday) and last (Thursday) days were travel days, so my tour essentially spanned three days. Check out my recaps of Day 1 and Day 2.
Here's what Day three involved last Wednesday (10/5):
Our morning was spent in Venlo, located in southeast Netherlands along the German border. Venlo is host to a seemingly endless array of business parks, mostly filled with logistics facilities. This day focused on Fresh Park Venlo, a 321-acre park comprised of fresh food-related companies, products and knowledge. We were given a presentation by members of ZON, a food growing association that has 250 grower members and operates as the landlord of the Park. We learned the history of ZON's growth, its ongoing projects and its speed of service. Within 48 hours, ZON can move fruits and vegetables from harvest to JFK airport in New York.
ZON gave us a tour of one of its cold chain operations facilities, where we saw various vegetables being packaged and palletized by employees. We also saw ZON's trading center, where various traders conduct sales in a room that looks like a modern-day college lecture hall, with a computer at every desk.
Here's a batch of photos and videos from ZON's cold chain facility: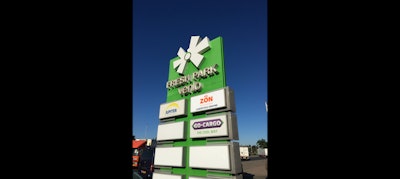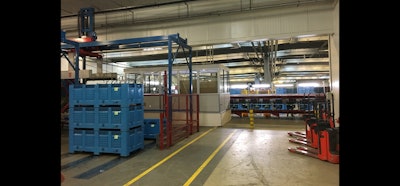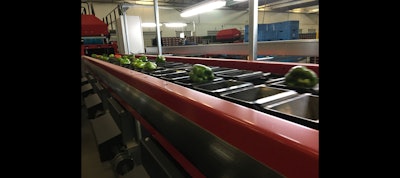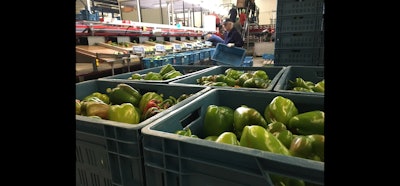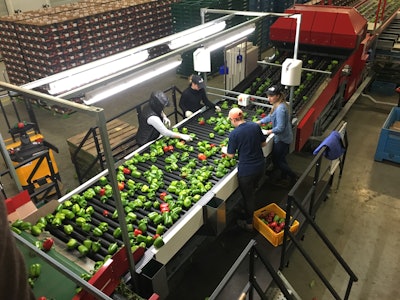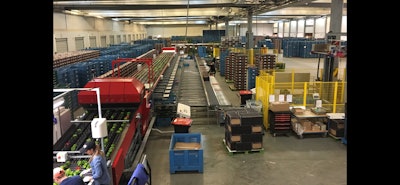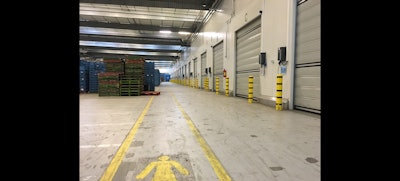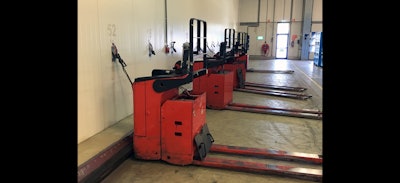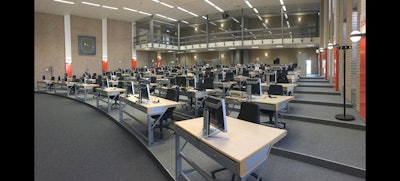 From there we bused northwest to Zoetermeer on the other side of the country — which was only 2 hours away. There, we met with the Holland International Distribution Council (NDL) — the premier partner of NFIA with respect to foreign direct investment of logistics into the Netherlands. The largest portion of NDL's 300 members are logistics service providers, followed by infrastructure organizations, financial service providers and regional organizations. NDL's overall goal is to promote the Netherlands as a logistics hub for all of Europe, informing countries about what's going on in Holland and highlight its supply chain operations. With just nine employees, the group attracts 70 to 80 new investment projects per year. NDL's top function is lead generation for companies looking for European supply chain opportunities and ways to outsource their logistics. The group does this through seminars, webinars, expo events and more. NDL's No. 2 function is providing a field of knowledge – educating potential clients on investment factors/climate, and connecting logistics knowledge with members to develop propositions.
NDL shared three reasons why foreign logistics companies so often flock to the Netherlands (NL):
Fee IT Determent — In most other countries, shippers importing goods from outside the European Union pay a Fee IT (18 percent in Netherlands) and have a set time limit (several months or so) to reclaim that fee after delivery. In the Netherlands, there is no limit, so shippers can defer their Fee IT as long as it takes to reclaim it. They just need to prove when goods come in and when they are delivered.
NL trade customs are well-known for being very business-friendly
NL scores very well in quality of services rankings
After lunch, we traveled northeast to our hotel in the heart of Amsterdam, checked in and headed out again to West Poort in the Port of Amsterdam, where the port authority welcomed us on a boat tour of the area. Handling around 95 million metric tons of various cargo each year, the Port of Amsterdam is western Europe's fourth-largest port in terms of volume. Commercial manager Ants Tilma led the tour, which passed through a ship maintenance harbor and eventually took us back into downtown Amsterdam through its canal system (which is gorgeous, by the way).
Take a look at some photos and video I took from our boat: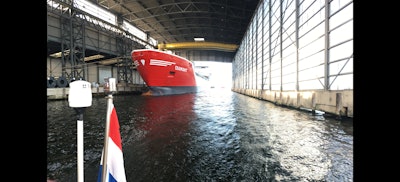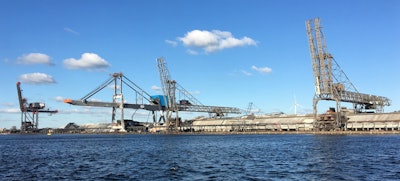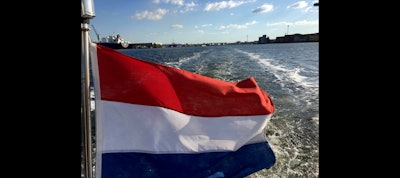 With evening came our group's farewell dinner, after which I was able to take in some of the Amsterdam nightlife and wander about the city. My long day of travelling back to Wisconsin started early the next morning. I definitely want to make it back to Amsterdam someday for a weekend of bar-hopping.
I want to extend a sincere thank you to NFIA for this amazing opportunity. Not only did I get to travel abroad for the first time, but got to see why so many well-known U.S.-based companies have established a foothold in the Netherlands. In terms of logistics capabilities, the country truly defines "small, but mighty." Holland may be less than one-third the size of Ohio and have only 17 million residents, but the ways it moves goods in and out of the country are amongst the very best in the world. In a nutshell, the Netherlands is the gateway to Europe.
Bonus Video: Just because it was so damn beautiful, here's my view going through the canals in Amsterdam.
Bonus Photo: Yours truly signing off from The Port Of Amsterdam.