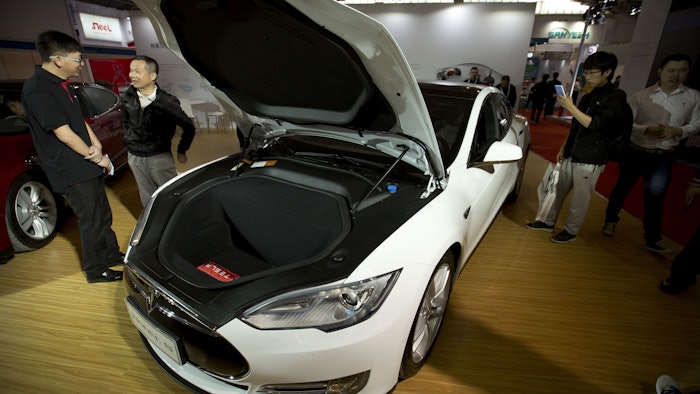 Included in IMPO's top five news stories: Tesla denies allegations about safety issues with its Model S suspensions and companies struggle to find employees with basic assembly skills. 
Take a look at last week's top stories:
New OSHA Injury Reporting Rule Rattles Manufacturing Industry: A new injury reporting rule from the Occupational Safety and Health Administration is setting off a firestorm of debate in the manufacturing industry. Recently, OSHA released the final language of the controversial new rule, which will not only require that injury reports are submitted electronically, it will also make those records public. At the center of the debate is the question of whether public access to the injury reports will encourage better safety practices or set up companies to be targeted by lawsuits and bad press. The law will apply to a wide range of industries including manufacturing, utilities, construction, transportation and waste treatment and disposal.
Officials: Mushroom Pallets Crush Worker To Death At Plant: A man has died after being crushed by pallets of mushrooms at a plant in central Florida. The Orlando Sentinel reports Orange County sheriff's spokeswoman Rose Silva says 45-year-old Bruce Edward Stephenson Jr. of Tavares was moving the pallets last week with a forklift at the Monterey Mushrooms Inc. plant in Zellwood when the pallets began swaying. Silva says Stephenson jumped off the forklift, but the pallets fell on him before he could get away.
Companies Struggle To Find Employees With Basic Assembly Skills: There was a time, not long ago, when employers could rely on new hires to possess rudimentary knowledge of basic assembly methods, schematic diagrams, and proper use of hand tools. These skills were the result of individuals who grew up maintaining their cars. Yet that way of life is largely a thing of the past, much to the dismay of employers. The current focus on advanced technologies and high-end skills is crucial and necessary, but you cannot overlook the need for basic skills, such as the ability to install bearings, lubricate machine slides, or align couplings.
Tesla Denies Safety Problems With Model S Suspensions: Electric car maker Tesla Motors is denying allegations that there are safety problems with its vehicle suspensions. The Palo Alto, California, company says one of its cars had an abnormal amount of rust on a suspension part, a problem it hasn't seen in any other car. On Thursday, the U.S. National Highway Traffic Safety Administration said it asked for information from owners and Tesla about Model S suspension failures. The agency has not opened a formal investigation.
Super Slick 3D-Printed Motorcycle: The next step in e-bike innovations is all in the framing. The Light Rider is a invented motorcycle from German company Airbus, that uses aluminum powder to create a super-light futuristic bike body.