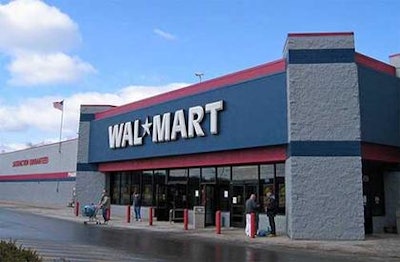 First off, some formal introductions may be necessary. I'm Chris Fox, and I've recently taken the helm as editor of Manufacturing.net. After spending three years working on Product Design & Development, I took this opportunity to work for a sister publication in a similar realm, but with a broader scope in the manufacturing marketplace. As PD&D's 3D printing guru, I've taken a lot of interest in the realm of manufacturing, specifically in the areas of reshoring and distribution.
With that said…
Last week, Walmart announced that it had hosted a group of U.S. manufacturers to its headquarters in Bentonville, AR. It inspires me to hear that big corporations (especially those as big as Walmart), are getting on or are still on the "reshoring" bandwagon.
This "Made in the USA" open call isn't without a catch. Suppliers had the opportunity to meet with Walmart's senior leaders and merchants to pitch their products for stores.
Again, giving U.S. suppliers an open, up-front opportunity to sling their goods without the pomp and circumstance that can often come with courting new buyers is advantageous and a more genuine way to get quality, reshored products on shelves, but Walmart couldn't let this happen without a PR media spin.
The general session was broadcast live last Tuesday, and according to the press release, "Similar to "Shark Tank," [the suppliers] will learn on the spot if they "made the deal" and will get stocked on Walmart shelves."
While this approach may appeal to the lower-end of everybody's T.V.-watching intellect, it doesn't seem like a quality way to do business. I've never enjoyed the fanfare that sometimes goes into the supply game – I feel that if you have a good product, you should be on the shelf, even if you can't pitch a good sale or smooth talk corporations out of money.
Turning the supplier-buyer interaction into a spectacle is not only unentertaining, but it is also useless to help the parties of suppliers pitching their products. What it becomes, then, is a newsworthy stunt to grab the media's attention. And it did, but it does very little for those U.S. suppliers that are working to get their foot in the door.
I'm reminiscent of the movie, Gladiator, when Maximus shouts, "Are you not entertained?" Suppliers sit in front of Walmart buyers, waiting to receive a thumbs up/thumbs down to seal their fate. Perhaps I'm embellishing a bit, but you get the idea.
In the end, this seems like it could benefit all parties, but it looks to only make the elimination process for a major corporation more efficient.
What's your take? Is this a just a way for Walmart to make the buying process more efficient while drumming up publicity, or does this appear to truly benefit both sides of the conversation? Email chris.fox@advantagemedia.com.