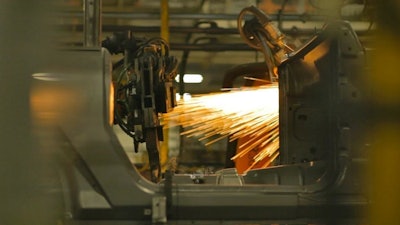 To handle continuous production for Chrysler Group's Jeep® Wrangler, KUKA Systems Group needed an automated manufacturing solution that would meet the demands of a rigorous production schedule and have the flexibility to produce multiple car models on the same assembly line. In order to meet its goals, the company implemented an intelligent system anchored by Windows Embedded and Microsoft SQL Server that connects 259 assembly-line robots with a controller, over 60,000 device points, line-of-business applications and back end systems. The new solution delivers continuous uptime and produces more than eight different car models and over 830 car bodies each day.
The story behind KUKA Toledo Production Operations (KTPO), a subsidiary of KUKA Systems, goes back to 2003 when Chrysler was already under the perils of limited cash flow. In a business model shift, Chrysler offered suppliers the opportunity to bid for the job of providing the equity and capital to do the body in white (the initial welding of sheet metal), the chassis, and the painting, before Chrysler would purchase the work-in-progress and address trim, validation, and shipping. KUKA had been a long time body in white integrator, providing body in white tooling, automation and process technology to the various car OEMs. When KUKA won the bid to build the Jeep Wrangler in 2004, KTPO was born — with vehicles rolling off the line and headed to Chrysler by 2006.
Jake Ladouceur, Managing Director, KUKA Toledo Production Operations, had worked in the automotive industry in many capacities for a number of years, and couldn't turn down the opportunity to join the KTPO team when it was offered. As a longtime proponent of continuous improvement and operational efficiencies, "This was a once in a lifetime opportunity to start a body in white operation from a completely clean slate," Ladouceur explains.
Ladouceur and his team were early pioneers of the Internet of Things (IoT) approach to manufacturing, and came up with a streamlined approach utilizing Microsoft equipment to make sure that the data required to build the car would be accessible to all who were intended to use it. KUKA designed an automated manufacturing system based on a Microsoft platform with the Windows Server operating system and the Windows Embedded Compact product family. Microsoft SQL Server data management software is used on backend servers to support quality control and other processes. The company knew that together, the products would provide enhanced connectivity between the production line and backend systems, as well as better usability with familiar Microsoft interfaces. With an end-to-end, automated manufacturing solution based on Microsoft technology, KTPO has gained better business agility, continuous operations, and a more accessible system with a simplified, Windows-based interface.
One of the key benefits was creating a line of traceability as vehicles moved from KTPO to Chrysler. For example, if a vehicle arrived at Chrysler with a flat tire, the onus was on KTPO to prove that it was not "the body shop's fault." Explains Ladouceur, "We learned a long time ago that we must refute the data that would be alleged to the body in white. So we became professional defense attorneys." With technology in place, his team was able to show all of the relevant details like the geometries, the fit and finish dimensions, and even pictures of the vehicle going into the customer's building. "The most important thing in our business is lot control," he says. "The genealogy and traceability of that vehicle — every element on that vehicle is noted and stored for rapid retrieval, should a question arise and/or a quality action item be assigned to KTPO."
Additionally, KTPO has realized multiple benefits, including the ability to adapt quickly to daily changes in production requirements. "We manufacture a complete car body every 77 seconds, "says Ladouceur. "We don't have time to adjust source code, and we can't introduce something that isn't trusted and proven. Our intelligent system built with Microsoft technology enables us to react very quickly."
In addition to driving predictive maintenance, Sanjay Ravi, WW Director of Discrete Manufacturing for Microsoft sees some of the added benefits in operational analytics.
"For example, the equipment they use to drive the screws in: they know what torque the equipment is using. If, let's say, down the line they run into a quality issue, they can quickly find out what caused that failure. They're able to go back and analyze things, and make the changes that are required very quickly… if they find in some cases that things are going beyond the tolerance limits that they have set, even the connectivity they have in the factory can quickly find those outliers and make changes, even before quality problems arise."
For Ravi, KTPO's experience embodies some of the most critical aspects of IoT — especially since they were able to use the data wisely instead of drowning in it. "It's an opportunity, because you can now get real-time business insight if you have the right capabilities in place that can help you address issues before they happen."
Echoes Ladouceur, "You can generate data until the cows come home, but it means absolutely nothing if you're not utilizing it for the continuous improvement process to determine where you can gain advantages and efficiencies. The utilization of the data is more important than just having the data."
Check out this video and see how the plant came together: 
---
To read more by Anna Wells, sign up for our newsletter. You can also follow Anna on Twitter @IndustrialAnna or contact her by email at anna.wells@advantagemedia.com.