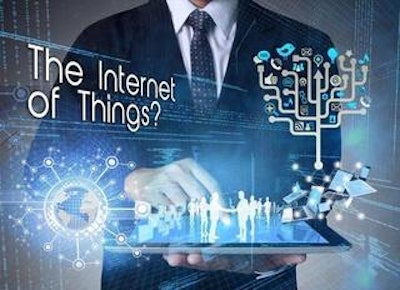 Today, we understand "home" as a place of safety, comfort, and privacy. We associate the concept of home with a clearly bounded physical space — a house, a condominium, or an apartment. We also associate "home" with our ability to create a personalized environment. Previously, craftspeople fashioned the furnishings and tools necessary for meeting essential needs and delighting aesthetic tastes. But as daily life moved away first from the village and then from the home, industries began to craft and shape household items. Now, there are countless companies devoted to designing, manufacturing, and selling products for individual dwellings.
Beyond IKEA, Home Depot, Lowe's, Pottery Barn, and Bed, Bath and Beyond (to name just a few) — companies that supply materials to better feather one's proverbial nest — other companies such as Samsung, EchoStar, Seed Labs, Philips, Nest Labs, and Belkin are introducing ways of making "home" not only the nicest word, but maybe the smartest word too.
The definition of a smart home depends on whom you ask. For some, a smart home is an automated system controlled by the slide of a fingertip across the face of a mobile phone. For others, a smart home is an energy efficient structure in which power and water usage is carefully tracked and compared to grid use. For many, a smart home is still a dream.
In a recent interview with Arena Solutions, Josh Buesseler, the industrial designer who designed Wally, echoed Bangert's assertion: "I'm really interested in home automation. The majority of products that are out there are adequate, but not thorough. They don't tell a full story, and they are designed for homeowners — not for mobile people, apartment dwellers, or nomads. Products like Philips hue are interesting in conjunction with websites like IFTTT. People are essentially creating their own actions. They're programming their own lifestyles." 
Products featuring the ability to program one's lifestyle and create a personalized environment that allows a homeowner — or nomad — to prioritize his values (e.g., energy efficiency, safety, lighting, sound systems, etc.) will draw people into the IoT. Modern appliances, after all, were designed with the intention of making housework easier and more efficient — to allow users more free time outside the home. Today, with the advent of mobile phones and wearables, our concepts of easy and efficient have become more nuanced and our expectations have become even higher.
Understandably, new smart appliances and integrated products depend not only on ideation and generation but also component innovation — better, faster, lighter, and connected are the new rules of the game. Designers and manufacturers who take the lead in developing these products need a way to be as smart as the homes they are helping to build.
Perhaps it's no surprise that we spend more waking hours at work than we do in our homes. In essence, our workplaces have become our second homes. If a company is involved in designing and manufacturing physical products, product lifecycle management (PLM) is the new hearth: the heart of information sharing.
However, traditional PLM approaches that depend on email and Excel files are unable to accommodate the opportunities and challenges of smart, connected products. Product data management (PDM) systems, with local servers and large computer aided design (CAD) files, are also inadequate. Manufacturers who seek to make their products better, faster, lighter, and connected will need to improve their enterprise resource planning (ERP) processes and tools first. They will need to be connected.
Cloud-based PLM systems enable agile and accurate management of data (e.g., technical specifications, 2D drawings, bills of materials, work orders, quality control correspondence, etc.), particularly in a complex and dynamic environment where the time from ideation to production is shrinking. Beyond being easy and cost-effective to implement, the benefits of a cloud-based PLM system include the ability to effectively communicate a rapid rate of changes across many products at once: to easily connect with a range of suppliers to ensure component advancements move through product development, driving down costs; to make design changes quickly; and to ensure the entire supply change is aware of design changes immediately, which minimizes scrap and rework.
The dream of the smart home is still being shaped. Ironically, though many of us have chosen to live apart from our extended families and communities, we have begun to desire products and features that are always connected to each other and to us. Using a cloud-based PLM system in the workplace, our second home, allows us to connect our processes, partners, and products to one another — seamlessly. It also allows us to create a virtual village. And maybe that will bring us back to a deeper understanding of "home" after all.
Steve Chalgren is VP of product management and strategy at Arena Solutions. 
---
To read more manufacturing and technology news, sign up for our newsletter. You can also follow Manufacturing Business Technology on Twitter @MBTwebsite.