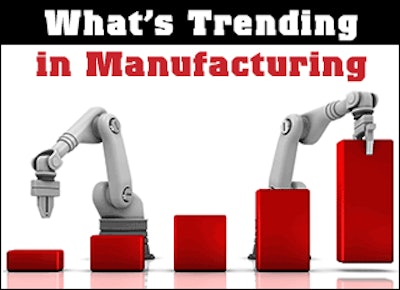 Here's a deeper look into the top trending stories in manufacturing today based on reader feedback. Ford to recalibrate hybrids; robots designed to revolutionize farming; petition filed for discovery in Asiana crash; and the U.S. auto industry surges on.
---
DETROIT (AP) -- Ford Motor Co. is offering free upgrades to U.S. and Canadian hybrid customers to improve their fuel economy. Some customers have complained that the cars aren't getting the 47 mile-per-gallon (20 kilometers per liter) fuel economy promised in Ford's advertising. Read more here.
According to a Ford press release, as Ford's share of the U.S. electrified vehicle market has quadrupled in the past year, the company is announcing improvements to the on-road fuel economy performance of its hybrid vehicles, hiring new engineers, and expanding its research facilities for expected continued growth.
This year, Ford's share of the U.S. electrified vehicle market is up 12 share points to nearly 16 percent, while Toyota's share is down 8 share points, and more customers are trading in their Priuses for the new Ford C-MAX Hybrid.
"Strong consumer acceptance of Ford hybrids shows that our plan to lead in fuel economy across our lineup is working," said Raj Nair, group vice president, Global Product Development. "Our commitment to deliver great fuel economy in our cars, utilities and trucks is a key reason we are seeing strong growth in coastal markets and with import buyers."
---
SALINAS, Calif. (AP) -- On a windy morning in California's Salinas Valley, a tractor pulled a wheeled, metal contraption over rows of budding iceberg lettuce plants. Engineers from Silicon Valley tinkered with the software on a laptop to ensure the machine was eliminating the right leafy buds.
The engineers were testing the Lettuce Bot, a machine that can "thin" a field of lettuce in the time it takes about 20 workers to do the job by hand. Read more here.
Check out this video and see the Lettuce Bot in action:
---
CHICAGO (AP) -- A Chicago law firm has taken steps to sue Boeing Co. on behalf of 83 people who were aboard the Asiana Airlines flight that crash-landed in San Francisco earlier this month, alleging that a malfunction of the plane's autothrottle may have caused the crash.
Ribbeck Law Chartered on Monday filed a petition for discovery, which is meant to preserve evidence, in Cook County Circuit Court in Chicago, where the aircraft manufacturer is headquartered. The firm said in a news release that additional pleadings will be filed against Asiana Airlines and several component parts manufacturers in coming days. Read more here.
The airline, meanwhile, told CNBC on Wednesday it has decided not to sue an Oakland TV station for mistakenly reporting false names of the pilots. Asiana said it planned to sue KTVU, which mistakenly aired fake, racially offensive names for the pilots.
In a statement to CNBC, the airline said it "has decided to not pursue legal action as a result of a public apology by KTVU for the report and to keep all of its resources dedicated to caring for the passengers and family members of Asiana flight 214 and supporting the investigation into the cause of the accident."
---
ANN ARBOR, Mich. (AP) -- Hyundai Motor Co.'s factories have reached their maximum capacity to build cars, and that's costing the company sales in a growing U.S. market, its American CEO said Friday.
Hyundai's U.S. sales are up only 1.9 percent for the first half of the year, less than a quarter of the overall market's 8.4 percent growth rate, according to Autodata Corp. Industry analysts are predicting that sales will rise as high as 15.5 million cars and trucks this year, a million more than last year, and there are predictions of nearly 16 million in 2014. Read more here.
According to a recent Wall Street Journal article, U.S. auto sales rose at the strongest rate in more than five years in June, propelled by a surge in pickup truck demand, lending new confidence to industry executives' belief that the nation's auto recovery has more room to run.
Overall, auto makers sold 1.4 million cars and light trucks in June, 9.2 percent more than a year ago, according to researcher Autodata Corp., and putting the industry on track to make 2013 its best sales year since 2007. Through the first six months of the year, Americans have purchased 7.8 million cars, 7.7 percent more than the same period a year ago.
"America's families are better off than they were at the beginning of the year and they believe — with good justification — that the economic expansion is going to continue," said Mustafa Mohatarem, General Motors Co.'s chief economist.
---
If you'd like to weigh-in about What's Trending In Manufacturing, leave a comment below or Email me at Jon.Minnick@advantagemedia.com.