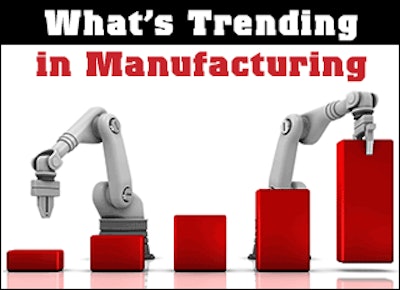 Here's a deeper look into the top trending stories in manufacturing today based on reader feedback. Gunpowder plant owner convicted in fatal blast; bringing manufacturing back to the U.S. via the robot; and using the supply chain to bolster success. Below these stories, check out links to other related news and features at Manufacturing Business Technology.
---
NH Gunpowder Plant Owner Convicted In Fatal Blast
LANCASTER, N.H. (AP) -- The owner of a gunpowder plant where an explosion shook nearby buildings and killed two workers was convicted on Wednesday of negligent homicide and manslaughter.
Craig Sanborn owned the Black Mag plant in Colebrook, where the 2010 explosion killed 56-year-old Donald Kendall, of Colebrook, and 49-year-old Jesse Kennett, of nearby Stratford.
The force of the explosion rattled buildings and sent plumes of black smoke into the air. Dozens of homes were evacuated, and firefighters couldn't get close to the burning site for several hours because ammunition was exploding. Continue reading...
---
Bringing Manufacturing Back To The U.S. Via The Robot
A robot named Baxter is operating on the assembly line of Rodon, a plastics manufacturer in Pennsylvania. Rodon's VP says the technology is reducing costs and increasing productivity, but doesn't replace human workers who he says are needed to maintain the equipment.
---
Using The Supply Chain To Bolster Success
It's not enough to have a great product to be successful. Companies also need an effective supply chain to be competitive. Ranga Bodla, director of vertical marketing, and Roman Bukary, vice president and general manager of Manufacturing and Wholesale/Distribution Industries at NetSuite, took a moment to discuss supply chain management and how manufacturers can leverage it to be successful.
Ranga: The biggest thing companies can do is look at the elements they can deploy in their supply chain that enable them to compete more effectively. I think sometimes people can get excited about the latest shiny new toys — and that might be the right thing for their business — but they need to ask themselves if the new edition, element or technology will add an additional competitive advantage over their competitors. Will it enable them to be more successful than the guy next door? I think that's really the way to stay ahead of those things. Continue reading...
---
If you'd like to weigh-in about What's Trending In Manufacturing, leave a comment below or Email me at [email protected].