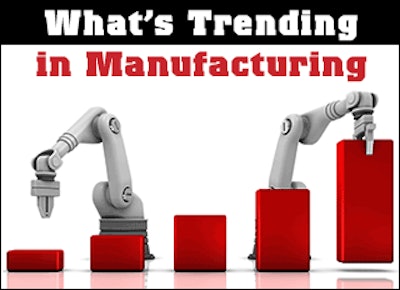 Here's a deeper look into the top trending stories in manufacturing today based on reader feedback: EU regulators raid offices of consumer electronics companies; Ford unviels the new Mustang; and the U.S. House votes to renew a plastic gun ban. Below these stories, check out links to other related news and features at Manufacturing Business Technology.
---
EU Regulators Raid Offices Of Philips, Others
BRUSSELS (AP) — European Union antitrust regulators have raided the offices of several companies that make and sell consumer electronics and domestic appliances online, in an investigation into whether they are artificially boosting the prices of goods online.
Royal Philips NV confirmed Friday it was one of the companies "visited" by representatives of the European Commission, the EU's executive arm. Spokesman Joost Akkermans says the company is cooperating with an "ongoing case" but it cannot comment further. Continue reading...
UPDATE:
Media-Saturn-Holding GmbH, which operates the Saturn and Media Markt consumer electronics retail chains, likewise confirmed it had been involved and is cooperating. Samsung is widely reported to also have been targeted in the raids, but company officials in Seoul could not immediately be reached to confirm that late Friday.
---
Last week Ford unveiled the 50th anniversary edition of the iconic car. Take a look at the evolution of the Mustang and see what 2015 will bring to this piece of Americana.
Check out all the latest videos on Manufacturing Business Technology here.
---
U.S. House Votes To Renew All-Plastic Gun Ban
WASHINGTON (AP) -- The U.S. House of Representatives voted Tuesday to renew a 25-year-old prohibition against firearms that can evade metal detectors and X-ray machines just as 3-D printers are increasingly able to produce plastic weapons.
On a voice vote, the House passed a bill extending the Undetectable Firearms Act for another decade.
The Senate is expected to act on the legislation when it returns from a two-week holiday recess next Monday, a day before the current law expires. Continue reading...
Commentor BPMGuy had this to say:
"Privately manufactured plastic guns are part of our new reality. What isn't yet is someone with bad intent using one to commit some public atrocity. When that happens, we will all come face-to-face with the ramifications of "maker" technology. 3D printing will prove to be the most disruptive technology to come along in a long time. Most people haven't warmed to the idea just yet, but as prices come down, it is a matter of time before the hot Christmas gift of the year will be a 3D printer. When that happens, websites containing plans for all sorts of things will spring up.
"There is already another technology that allows you to take 3D photos of an item and convert it to 3D printing instructions. IP protection and regulations on objects are about to get WAY more complicated."
---