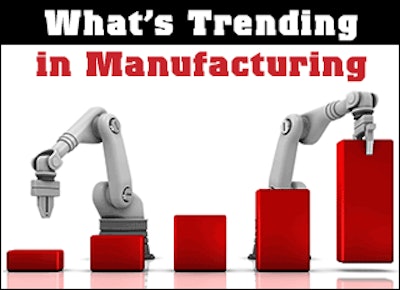 Here's a deeper look into the top trending stories in manufacturing today based on reader feedback: U.S. Navy to deploy laser; Tesla fights bills that would limit expansion; and Mexico to become No. 2 car exporter to U.S. Below these stories, check out links to other related news and features at Manufacturing Business Technology.
---
In Case You Missed It: U.S. Navy Ready To Deploy Laser For 1st Time
Some of the Navy's futuristic weapons sound like something out of "Star Wars," with lasers designed to shoot down aerial drones and electric guns that fire projectiles at hypersonic speeds.
That future is now.
The Navy plans to deploy its first laser on a ship later this year, and it intends to test an electromagnetic rail gun prototype aboard a vessel within two years.
For the Navy, it's not so much about the whiz-bang technology as it is about the economics of such armaments. Both cost pennies on the dollar compared with missiles and smart bombs, and the weapons can be fired continuously, unlike missiles and bombs, which eventually run out.

According to a report from Time, besides its ability to be fired continuously, the biggest advantage of the laser is that it's cheaper to use than missiles and smart bombs. The downside is that the laser is a lot less efficient if there's rain, dust or turbulence in the atmosphere.
The laser will be set up on the transport dock USS Ponce in the Persian Gulf. One single sailor can operate the device, which can burn through targets and fry electronics with beams that are invisible to the human eye. The laser is designed to shoot down aerial drones and disable swarming speedboats.
The U.S. Navy will begin deploying lasers this year and an electromagnetic rail gun within two years.

Take a look at a test fire of the laser: 
---
Tesla Protests Bills That Would Limit Expansion
OLYMPIA, Wash. (AP) -- Tesla enthusiasts drove their electric cars to Olympia on Monday to protest legislation they said would prevent the company from opening and operating additional facilities in Washington state.
Tesla lobbyist Daniel Witt told supporters at the Capitol that under legislation currently proposed, Tesla Motors Inc. would not be able to expand beyond the two stores and service centers it operates in Seattle and Bellevue.
Language in House Bill 2524 and its companion, Senate Bill 6272, says the Department of Licensing would no longer be able to issue additional facility licenses to Tesla because of its status as a vehicle manufacturer and not as a dealer. The company sells cars directly from the manufacturer to the consumer. Continue reading...
Check out this report from KOMO 4 in Seattle, Wash.:
---
Mexico To Trump Japan As No. 2 Car Exporter To U.S.
CELAYA, Mexico (AP) -- Mexico is on track to replace the Asian automotive giant as the second-largest exporter of cars to the United States by the end of the year.
An $800 million Honda plant opening Friday in the central state of Guanajuato will produce about 200,000 Fit hatchbacks a year, helping push total Mexican car exports to the U.S. to 1.7 million in 2014, roughly 200,000 more than Japan, consulting firm IHS Automotive says. And, with another big plant starting next week, Mexico is expected to surpass Canada for the top spot by the end of 2015.
"It's a safe bet," said Eduardo Solis, president of the Mexican Automotive Industry Association. "Mexico is now one of the major global players in car manufacturing." Continue reading...
---
---
If you'd like to weigh-in about What's Trending In Manufacturing, leave a comment below or Email me at Jon.Minnick@advantagemedia.com.