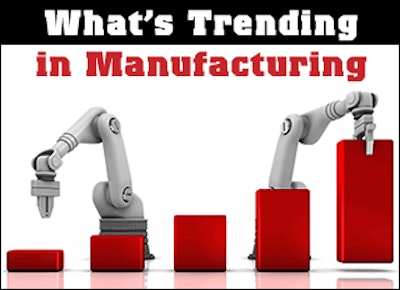 Here's a deeper look into the top trending stories in manufacturing today based on reader feedback: The small SUVs of the Geneva Auto Show; the DRAM antitrust judgment; and why 3D printing may not be in a bubble. Below these stories, check out links to other related news and features at Manufacturing Business Technology.
---
IN CASE YOU MISSED IT: Automakers Bank On Small SUVs
Carmakers are banking on the fast-growing demand for small SUVs to earn new customers in the U.S. and help turn around their businesses in Europe's still-fragile market.
U.S. carmaker Chrysler's Jeep brand launched the Renegade and France's Citroen introduced the funky Cactus at the Geneva Auto Show on Tuesday. And they are just the start of a long list of carmakers looking to "come to the party," said IHS analyst Tim Urquhart.
They are coming big and small. Mighty Volkswagen, aiming to become the globe's No. 1 automaker by 2018, has rolled out the concept T-Roc while South Korea's fourth automaker SsangYong will launch the XLV sport utility vehicle next year, with the goal of doubling European volumes from 3,000 last year to 6,000 in 2015.
The market for small SUVs is growing just about everywhere across the globe. It's among the fastest-growing market segments in the U.S., where young people and downsizing baby boomers are attracted to the tall cabin, big cargo area, fuel efficiency and maneuverability. And in Europe small SUVs have proven themselves more recession-resistant than most.
Take a glance at some of the models on the stands at Geneva.
---
DRAM Manufacturers Take A Hit In Antitrust Settlement
Last week we ran a story about an antitrust lawsuit that is finally being settled for $311 million. The class-action lawsuit stemmed from charges that Boise-based computer chip maker Micron Technology conspired with Elpida, Hitachi, Hynix, Infineon, Mitsubishi, Mosel, Nanya, NEC, Samsung, Toshiba and Winbond to fix prices on Dynamic Random Access Memory (DRAM) computer chips between 1998 and 2002.
DRAM is a widely used form of computer memory sold separately or pre-installed in electronic devices such as computers (laptops, desktops, and servers), graphics cards, video game consoles, MP3 players, printers, PDAs, DVD players, Digital Video Recorders, and others. Regardless of the brand name, most of these types of products produced between 1998 and 2002 contained DRAM chips. Continue reading...
Commenter lane mason has this to say on the subject:
"The law did not represent the realities on the ground that DRAM maker's faced, due to the high capital costs and cyclicality of the industry. Tellingly, of those companies listed n the suit...Micron Technology conspired with ELPIDA, HITACHI, Hynix, INFINEON, MITSUBISHI, MOSEL, Nanya, NEC, Samsung, TOSHIBA and WINBOND...more than half (those shown in my CAPS) are gone from the DRAM market today, due to bankruptcy, consolidation, or withdrawn due to the financial demands of the business. Today, DRAM prices, having benefitted from constant technology improvements, which have been a part of the business since its inception in the 1970s, are 10x lower than they were in 2000-01 (a clear consumer benefit), and the industry returned to profitablity more than a year ago.

"By comparison with the $310M settlement allegedly due to the DRAM buyers due to 'price fixing', the DRAM industry lost more than $20 Billion during the extended downturn in the aftermath of the dot.com bubble bursting in 2001.

"Further to the settlement, please name someone who has the receipt from their computer... bought in 2000... and can produce it to get their $10 refund.

"This is a law uninformed by the true structure of the DRAM industry. It is also a legal case gone badly awry, and should never have been allowed to meander through the courts for more than a decade before getting resolved... eventually, wrongly, expensively."
What do you think? Were the manufacturers treated fairly? Is this just the cost of doing business? Or is there more going on here as lane mason has suggested? Feel free to comment below.
3D Systems reported good enough earnings and guidance to impress investors while the whole 3D printing industry is bouncing back from a sluggish start to the year. Take a look at this report from CNNMoney.
---