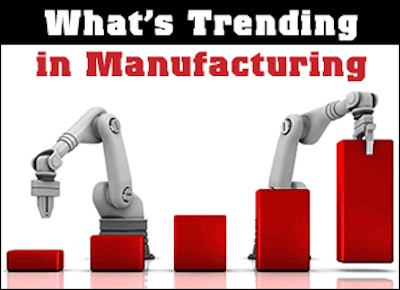 Here's a deeper look into the top trending stories in manufacturing today based on reader feedback: Wireless electricity; Goodyear's new blimp; and the $1.8M race car for amateurs. Below these stories, check out links to other related news and features at Manufacturing Business Technology.
---
IN CASE YOU MISSED IT: Is Wireless Electricity Within Reach? Yep.
Last week we introduced you to WiTricity, a company trying bring wireless electricity to manufacturers and consumers.  One MBT commenter, Dadvocate suggest that they'll be first in line for all the lawsuits. While it suggested that there are no immediate health risks, Dadvocate suggests that, "there is a growing concern over the density of cumulative magnetic field strengths and the harmonics associated among them."
While wireless charging has been around for a while in phones and toothbrushes, there's a push to expand it into other goods like automobiles. A few years ago, I visited a tool company working to put the technology in their cordless power tools and learned about the Wireless Power Consortium founded in 2008. The Wireless Power Consortium's mission is to establish Qi as the global standard for wirelessly charging electronic products. More than 180 members of WPC include industry leaders in mobile phones, consumer electronics, batteries, semiconductors, components, wireless power technology and infrastructure such as wireless operators, furniture and automotive parts companies. 
Only time will tell whether or not there are risks to health with wireless electricity, but it might be nice not to need cords to plug everything in. Just think of all the different ways you'd be able to use electronics and, quite possibly, all the things you'd no longer need to charge. 
Check out the video on WiTricity here:
---
Goodyear's Blimp Replacement Takes Flight
AKRON, Ohio (AP) -- The next generation of the well-known Goodyear blimp has made its first flight, cruising over part of northeast Ohio beneath bright blue skies.
A spokesman for Goodyear Tire & Rubber Co. tells the Akron Beacon Journal the airship had no problems during the debut from a hangar in the Akron area.
Goodyear says the high-tech, helium-filled airship is bigger, quicker and more maneuverable. It has a semi-rigid internal structure that wasn't present in earlier models and raises questions about whether it is truly a blimp, though the company still refers to it as such.
---
The $1.8M Ferrari Race Car For Amateurs
Ferrari XX Program allows a few of the most passionate fans to buy a FXX or a 599XX race cars and drive them on race tracks around the world.
---