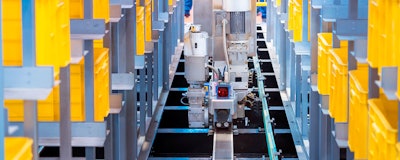 Managing cost is a concern in every warehouse; in fact, warehouses represent approximately 20 percent of total logistics costs. In an effort to reduce costs and improve efficiency, many warehouses turn to automation. Other trends driving demand for automation include the rising cost of space and a constant demand for near-perfect shipping accuracy. Automation in today's warehouses comes in many constantly changing options. Conveyors, shipping sorters, and pick-to-light systems have been used successfully in warehouses for many years. More recent trends include varied uses of robots and the philosophy of GTP (goods to person). Before investing in warehouse automation, there are a number of factors that warrant careful consideration, including processes and labor.
Processes
Warehouse automation has a direct bearing on supply chain efficiency. It must be adaptable and configurable to meet evolving business and customer needs, and it needs to be flexible enough to drive tactical and strategic operational decisions. Examine the flow of product through the warehouse, traffic patterns, and overall layout of the facility. If you have not already done so, standardize your processes by reducing potential variation, which saves time and money, and reduces errors. Measure each activity in the warehouse to establish a baseline where improvements can be made. Once you know where to improve, determine how to make those improvements and identify a target metric to measure implemented improvements. Implementing a warehouse management system (WMS) can help reduce labor costs while simultaneously improving productivity. WMS offerings provide critical insight into functional areas of the operation that are working and those functional areas that could use additional focus. When the business process is predictable, automation can allow for additional cost savings.
Automation to reduce transit time in the distribution center almost always represents an opportunity for improved efficiency. Automation of other processes, such as receiving, locating/storing, and order fulfillment, may become a critical constraint, particularly if there is a significant variation in demand or changes in product characteristics or product mix. For example, new product packaging must conform to existing automation, even though the new product packaging may not be compatible. Consider if a separate, manual process might be beneficial. Not all changes can be anticipated, but it's necessary to consider company forecast and roadmap for potential operational impacts.
The amount of product moving through the warehouse must also be considered. Automation should be designed with both the average volume and peak volume in mind. At the same time, future growth should also be taken into account. For example, if the average volume through a warehouse today is 150,000 units, and peak volume is 200,000, warehouse automation designed to handle 225,000 units would be sufficient. But what happens if business grows and the average moves up to 175,000 and the peak becomes 230,000 units? The system is over capacity, which means that customer demands cannot be met. Any warehouse automation system needs to be designed to handle maximum volume and dial down; it's not practical to design for minimum volume and dial up.
Labor
The human factor, and its accompanying labor costs, have many aspects that require attention. Automation would determine when, where, and how to divert product down the correct lane, preventing human error that could cause bottlenecks or damaged product and improving efficiency within the warehouse. One of the biggest cost factors in any warehouse is travel time, and conveyors can offer significant savings in this regard. However, if a conveyor is installed in a warehouse to help transport product across the warehouse, the warehouse operator still has to interact with the conveyor. In picking for example, the user would need to pick the product and then take it to a conveyor induction point. Then, another user would need to remove the product from the final point of the conveyor to the final shipping point within the facility. These interactions, and potential additional handling, all need to be considered with an underlying goal to minimize the number of human touches of product throughout the inbound/outbound lifecycle.
While labor is a variable cost, and equipment is a fixed cost, that equipment has to be maintained. Additional expense might be incurred in the form of additional maintenance staff and inventory for equipment parts. There is also the possibility of lost productivity while the equipment undergoes maintenance and even greater losses if the equipment fails. An EAM/CMMS solution should be considered to maximize the return on the capital investment made in equipment.
Balancing workers with automation requires that the warehouse operate in sync. It is important to clearly define the roles and responsibilities of both human and machine and the ideal workflow of each contributor. The next step is to consider those "what if?" scenarios. There are a number of ways that the warehouse becomes "out of sync", and it is necessary to have a contingency plan for the most common issues. For example, if items are unavailable to pick, the orders that are sorted will be short. What are the cost implications of this situation, and what will be the process to return to that ideal state?
Warehouse automation brings a static process to the facility. The cost of automated systems varies depending on the size and scope of the project, and can range from several thousand dollars to several million dollars. There are also various levels of automation with increasing complexity. Consider how much automation is appropriate for your operation. An independent consultant can be a valuable resource to evaluate the facility and the process, the equipment, and the software solution that will drive the process. Ideally, equipment and software would be implemented simultaneously to provide maximum efficiency and integration gains. Often times, if software is added later, additional customization is needed to interface with the existing equipment, adding to the cost of the project. Depending on the current mode of operation and the type of system installed, a return on the investment could be seen in as little as 6 months or as long as 10 years. Careful evaluation of the full depth of automation will ensure the investment is fiscally responsible.
Steve Adams is a Director at Aptean WMS and Steve Pierce is a Senior Logistics Consultant at Aptean WMS.