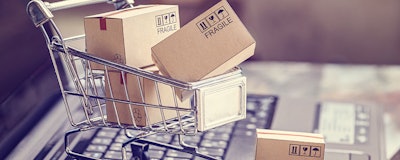 While ecommerce is now a near compulsory investment for any business, distributors still face a challenge enticing their customers online.
Ecommerce is now a standard element of almost every business' sales strategy. Today, companies, both B2B and B2C, are expected to have an online shopping feature on their sites to increase their market reach.
Yet, although ecommerce is now practically a compulsory investment, many customers still prefer traditional purchasing methods, choosing to email their purchase orders (POs) in. This may be due in large part to the challenges B2B customers face when using ecommerce, notably the duplication of effort required to place their orders.
With their own internal processes in place, B2B customers must create a PO in their own system before beginning the purchasing process. Email ordering allows them to simply attach a copy of this PO and click send. But, to use their supplier's ecommerce site, requires substantially more effort. They must first create their PO, before going online, logging in, finding and choosing the parts needed, starting a shopping cart, making sure pricing matches their records and then finally placing their order. With large wholesale purchases to make, typically involving hundreds, if not thousands, of complex line items, it is easy to see why buyers shy away from ordering online.
Bridging the Gap
So, with this reluctance to duplicate effort, how can you leverage your ecommerce investment without disrupting your customers? The answer is simple - sales order automation. While many see this technology as an ecommerce competitor, it can in fact be integrated into your platform, resulting in significant benefits:
Cut Down on Customer Effort: No company wants to become a burden to their customers. At least, not if they want to stay in business. Asking them, therefore, to double their workload for your benefit is completely unacceptable. Treating email orders like standard electronic documents, sales order automation captures complex PO data with 100% accuracy and zero need for human intervention. When integrated with ecommerce technology, order data is then directed through the same channel as online orders and into your ERP system for delivery. Your customers can then continue doing business as usual, while your customer service staff avoid error-prone, time-intensive manual order entry.
Enhance Your Customer's Experience: Whether order tracking or pricing alerts, everyone enjoys the perks of ecommerce. Since sales order automation technology can send email orders through your ecommerce platform, it gives your email customers access to the same features as your online users, offering greater visibility into their ordering process and uniquely enhancing their experience with your company.
Simplify & Accelerate Order Processing: From email to ecommerce to phone and fax, your customer service staff face a difficult challenge monitoring all your ordering channels. No wonder then that processing speeds are slow and errors common. By combining sales order automation and ecommerce technology, email and online orders are merged into one workflow. In this way, your staff can process orders and resolve issues in one location, ensuring your customers receive exactly what they ordered on time every time.
Boost Your Sales Capabilities: With the majority of your customers emailing their POs in, you miss out on a key sales opportunity – product recommendations. Connecting ecommerce and sales order automation, you can track your email customers' order details. Once an order is placed, an email can then automatically be sent with customized suggestions for other products your customer may find interesting.
Ultimately, in our fast-moving, omni-channel world, efficiency is king. Businesses today must cost-effectively optimize workflow and productivity or face falling behind in the fierce competition to deliver the best customer experience. By integrating sales order automation into your ecommerce platform, you can package the two technologies together, attributing the benefits of their combined powerful features into one spend. What's more, maximizing efficiency, visibility and processing speeds, this formidable technology combination will ensure you stay streets ahead of the competition.
Brent Halverson is President & CEO of ecmarket, cloud solutions developer of the patent-pending Conexiom sales order and invoice automation solution. Conexiom allows manufacturers and distributors to focus on serving customers and managing supplier relationships instead of entering data. For more information, visit conexiom.com.