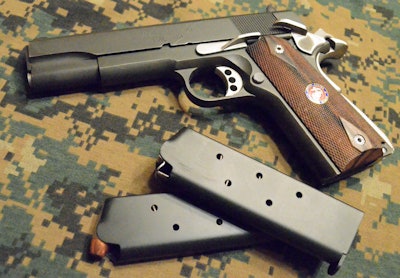 In 2013, the U.S. firearm industry generated $11 billion in revenue. New FBI data also shows that more background checks were conducted last year for firearm purchases than ever before, jumping 8 percent from 2012 numbers. And these trends mean big business for firearm manufacturers and related industries. 
Metalform manufactures American-made magazines for the 1911 pistol to brands like Colt, Smith & Wesson, and Kimber. Over the past few years the company has experienced amazing expansion, with forty percent growth in their business.
ATW Companies, which acquired Metalform at the end of 2011, is facing a problem any manufacturer would love to have - how to keep up with demand. 
Their answer?  Go Lean.
Kaizen is the Japanese philosophy and process that focuses on the incremental improvement of all company functions. The idea isn't a new one, but it continues to be a strategic advantage for companies throughout the world. 
"There's a strong push from our main customers to continually offer cost downs, and with that said, the lean initiative that we're putting into place will certainly help absorb some of those cost downs," says John Shields, Director of Sales and Marketing at Judson Smith Company, an ATW Company. 
A Three Part Initiative
The lean initiative being implemented at Metalform can be broken down into three elements. Because lean is a corporation-wide undertaking, each element focuses on a different aspect of the business.
"There are different elements of lean, and we're going to be using different tools depending on what the business needs of the area are," says Tracy MacNeal, Chief Strategy Officer at ATW Companies.
Lean manufacturing, the first element, is the most commonly thought of when referring to lean. This step includes rearranging your shop floor to make the flow more efficient, or eliminating wasteful steps in the process. This step is used when you already know what the problem is and you just need to fix it.
The second element, MacNeal explains, is lean control, also referred to as Six Sigma. Lean control is used when you don't know what the problem is and statistical modeling is used to understand where variation is coming from.  You can then use this information to reduce scrap, rejections, and variability in your process. 
The third element is lean knowledge, which incorporates the whole value stream. This includes the way staff talks to costumers on the front end, to the way orders are placed, and how it goes through the whole system and then out. 
"Often you can have a very lean process within the factory, but if you have a lousy ordering system or lousy scheduling, you're going to have a big mess," says MacNeal. 
Expected Benefits
"I think we're really fortunate to be in a big growth cycle. Sometimes, especially in 2008 and in some other industries, you often have to go lean because you're consolidating factories, that sort of thing. For us, it's really about absorbing growth," says MacNeal. 
She says they'll be hiring people next year anyway, but they'd like to not hire as many as if they were just going linear about it. "At a certain point your systems just can't be linear, they need to be smarter."
Some of the common benefits they anticipate from implementing a lean initiative include increased work-flow efficiency, standardized best practices across the company, and cost savings via waste elimination and better process control.
But on top of these, the benefit MacNeal is most excited about is quite intangible. She believes that by implementing a lean initiative, Metalform can operate with more self-directed teams, giving each team member more control. 
"I think everybody wants to have more autonomy in the way that they work. They want to have better visibility, better information, and better decision making capabilities. I think the old model where the supervisor is the only one that knows the schedule and is telling a bunch of operators what to do is an outdated way of doing things," she says. 
The team is realistic about their goals, however, and acknowledge that these changes won't happen overnight. They expect that the journey to push much of the decision making to the shop floor will take several years, but will be well worth it. 
"When you have a visible management team, people have more visibility to what's going on, and then the operators themselves can schedule their work. They can do their own preventative maintenance, they can do their own calibration, and they can do it in their own time and in their own way," says MacNeal.
Over time, Metalform expects their lean initiative to provide a tremendous boost in employee retention and engagement.
American Manufacturing Needs Lean
ATW Companies has been around for 127 years and is one of the oldest manufacturing companies in the country. They operate four plants in the United States, and their goal is to make American manufacturing the right choice.
Operating lean allows American companies to benefit from the technology and supply chains present at home, while cutting costs and increasing efficiency to remain competitive globally. 
"We are 100% American made and we hope to remain so. I think that lean is a big part of what makes American manufacturing possible," MacNeal says proudly. "Lean was invented in Japan, but there's no reason we can't become the best." 
---
If you have comments or questions about this article, or would like to be featured in an upcoming article, please contact me at tia.nowack@advantagemedia.com or on Twitter at @TalesFromTia.