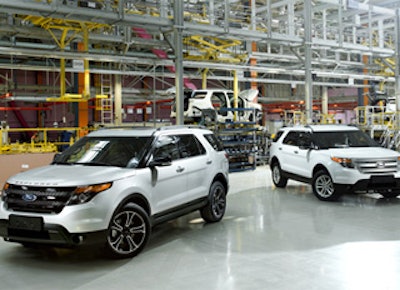 As demand for utility vehicles increases around the world, the Ford Explorer is being produced from the ground up outside of the United States for the first time in the iconic SUV's history.
The first full-production Explorer rolled off the assembly line in April at Ford Sollers Elabuga Assembly Plant in the Republic of Tatarstan for the Russian market. Previously, only knock-down versions of Explorer had been built anywhere outside of the United States, including Elabuga, since 2012. Knock-down production means partially assembled vehicles are imported from the home plant – in this case, Ford's Explorer plant in Chicago – along with the parts needed to complete them, and then fully assembled at the local facility.
Explorer sales in the U.S. rose 33 percent in March, marking the best monthly sales since the current model debuted in 2010. Since the vehicle hit the market in 1990, Ford has sold nearly 7 million Explorers in the U.S., leading the way as America began a love affair with SUVs that continues with today's more refined and fuel-efficient models.
Here, Bruce Hettle, director of manufacturing engineering with Ford, talks global Ford SUV production, the Ford Production System, and the future auto market.
Q: Why did Ford decide to expand SUV production outside of the United States?
A: The demand for sport utility vehicles is growing in Russia, and local production will help to strengthen the Ford brand position in Russia's popular sport utility vehicle segment.
Q: Can you explain how the auto market in Russia is changing, and what this means for global auto manufacturers?
A: Russia is on its way to being the largest market in Europe and presents an enormous opportunity for growth. We anticipate sport utility vehicle sales to continue to grow as Russian customers prefer the image and performance these utility vehicles provide in severe weather and challenging road conditions. In fact, we just announced that we are building a $274 million engine plant in Elabuga, Tatarstan, and will also manufacture and sell the new Ford EcoSport small sport utility vehicle. The Russian range of Ford sport utility vehicles also includes the Ford Explorer and the new Ford Kuga.
Q: How has the Ford Production System revolutionized manufacturing in Ford plants?
The global One Ford plan is making it possible for us to deploy One Manufacturing, a single Ford production system that will pay tremendous dividends through standard processes, greater flexibility, and improved investment efficiency. Ford's One Manufacturing system includes:
Improved flexibility: In 2011, 55 percent of Ford's operations had flexible body shops, a figure that increased to 65 percent in 2012. As the company launches new plants, each one will have a flexible body shop. Also, the number of vehicle derivatives that can be assembled at a single factory is increasing. By 2015, Ford will be able to produce 25 percent more derivatives per plant from 2011. Some new plants in APA will be capable of producing six and seven vehicles from a single facility.
Process/quality improvement: Ford is expanding the use of virtual tools that simulate how cars are assembled. By studying the best way for operators to install a seat, for example, Ford can design assembly lines that reduce injuries and accidents while improving quality. Since 2006, Ford has reduced the number of manufacturing build issues when a vehicle is first produced by more than 90 percent.
Investment efficiency: Virtual tools have already reduced the investment it takes to assemble a vehicle by more than 20 percent since 2009. In addition, the company has reduced the investment to produce a vehicle derivative by 60 percent. Going forward, expanding the use of virtual tools and standard processes will reduce total vehicle investment by 8 percent a year.
Capacity utilization: As Ford launches new plants, it is also reducing the number of platforms that vehicles are developed from. When combined with improved flexibility and more efficiencies, Ford will be able to take advantage of global economies of scale and significantly improve capacity utilization. By 2016, Ford's global capacity utilization on a two-shift basis will increase 27 percent compared to 2011.
Q: How does a global auto manufacturer, such as Ford, balance the "make it in America" initiative with the needs of a global company?
Ford is a global company, but we like to source locally when possible in the locations where we are producing and selling our vehicles.
Q: What does Ford expect in terms of auto sales and production in the future?
With the average age of vehicles on the road at more than 10 years old, we expect the market will be strong as customers are looking to upgrade to new vehicles.