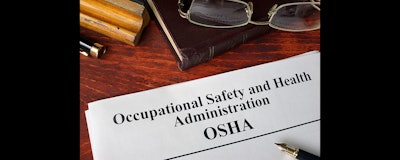 A group of Democratic senators recently asked the Trump administration to review delays in recent federal rules designed to further reduce workplace exposure to beryllium and silica dust.

The lawmakers, including Sens. Elizabeth Warren of Massachusetts, Patty Murray of Washington, Al Franken of Minnesota, Bob Casey of Pennsylvania, Chris Murphy of Connecticut and Bernie Sanders, I-Vt., also asked the Labor Department to detail the impact of the delays and to assess "whether lobbyists had improper influence in the decision-making process."

The beryllium rule would dramatically reduce acceptable airborne levels of the toxic metal, which is linked to cancer and fatal lung disease. The senators said that the rule was delayed twice by the Trump administration and that proposed revisions would ease requirements in the shipbuilding and construction industries.
The letter also criticized the delay of a rule limiting the average eight-hour exposure limit to crystalline silica dust, which could help prevent the progressive lung disease silicosis along with lung cancer, COPD and kidney disease among workers in the construction sector.

"The precipitous nature of the delays to these two rules, the lack of public input into these decisions and the failure of DOL to provide any substantive rationalization of the delays raise questions about the reasons for and process by which these rules were delayed -- and about whether the new DOL leadership ever fully intends to implement them," the senators wrote to DOL Inspector General Scott Dahl.

In addition, the lawmakers asked the agency to review its policy regarding announcements of large workplace safety citations, including whether officials discussed the matter with the Trump administration or transition team.

The Occupational Safety and Health Administration publicized large fines during previous administrations but did not post any such announcements on its website between Inauguration Day and April 12.

"Lobbyists for trade groups and large employers have opposed these disclosures, claimed that the data will be 'distorted' or 'misconstrued,'" the senators wrote in the letter.