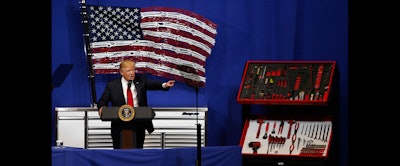 Earlier in the week of April 10, Michael Carr and the rest of the Snap-on Industrial Brands team were making preparations to exhibit at the annual Industrial Supply Association convention in Denver, CO. Traveling from Snap-on's Kenosha, WI headquarters, that preparation included hauling Snap-on's Tool Flag — a U.S. flag made out of 2,087 Snap-on tools created in 2014 for its Honor Flight Network — on a moving truck from Kenosha to the Mile High City.
That truck was halfway to Denver on April 13 when Snap-on received word from The White House that President Donald Trump would be visiting the company less than five days later.
Given Trump's proactive stance on American manufacturing, Snap-on knew it had to have the flag back in Kenosha for the event. So it was sent straight back and was able to be set up in time to provide the backdrop for the commander-in-chief to deliver a 90-minute address to a crowd of more than 500 people on April 18 inside Snap-on's Innovation Center at its headquarters.
"We had a unique opportunity and a very short notice," Carr told IMPO at the ISA convention expo floor April 24. Carr is Snap-on Industrial Vice President of U.S. and Canada Distribution. "We turned it around quickly."
After the Trump visit, the flag was expedited back to Denver so it could be set up in time to be part of Snap-on's ISA booth on April 24.
Carr — a former ISA president — said that the White House brought in 125 members of the press and around 200 government personnel between secret service, support or other officials. The rest of the crowd was filled with technical students and Snap-on employees.
"Through the years, Snap-on tools have been at the center of our industrial life," Trump told the crowd. "Your tools have fixed the cars our families depend on. They've sailed with the fleets that patrol the oceans, they've fixed the planes that cross our skies and Snap-on tools have reached the heights of space, used by astronauts in orbit to carry out their very, very important work."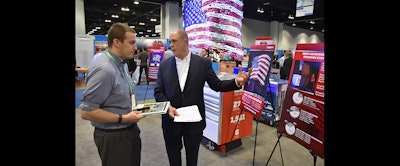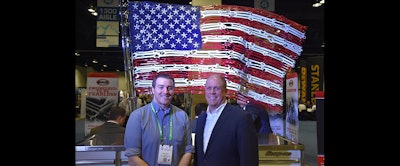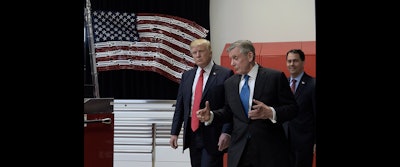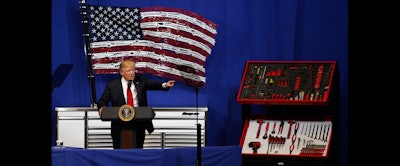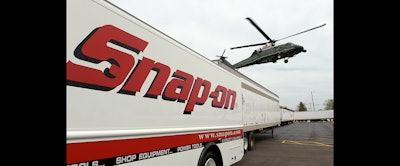 There are a number of well-known manufacturers in the greater Milwaukee and area, as well as the Chicago suburbs, which are only 50 miles south of Kenosha. So why Snap-on?
"He (Trump) picked Snap-on because he wanted a U.S. manufacturer. He wanted it in the state of Wisconsin, and he liked the district we are in," Carr said.
The Wisconsin-friendly Trump cabinet certainly didn't hurt Snap-on's chances. White House Chief of Staff Reince Priebus graduated from high school less than a mile away from Snap-on at Kenosha Tremper High School, and Speaker of the House Paul Ryan was born-and-raised 70 miles west in Janesville.
Beyond that, Snap-on CEO Nick Pinchuk is on the U.S. Board of the Government on Manufacturing Effectiveness.
During the April 18 visit, Trump further boosted his stance on U.S. manufacturing by signing his "Buy American, Hire American" executive order, aimed to aid protections for American-made goods and review the H-1B visa program for skilled workers.
Trump's speech was broadcast live inside each of Snap-on's 10 U.S. factories, allowing all employees to watch.
"You can imagine as you're going around the U.S. — whether you're in Elizabethton, TN; or Murphy, NC; or Milwaukee; or San Jose, CA — you have all of our employees watching the president talk live about Snap-on," Carr said. "I've talked to many friends who were within the facilities and they said that was one of the proudest days they've had as being a part of Snap-on."
Trump's speech also praised Snap-on's partnership with Kenosha's Gateway Technical College and called for renewed commitment to technical education and upskilling of the American workforce.
Before his speech, Trump — along with U.S. Treasury Secretary Steven Mnuchin, Secretary of Education Betsy Devos, Senator Ron Johnson, Wisconsin Governor Scott Walker and U.S. Representative Sean Duffy — were given a tour of the Snap-on's Innovation Works facility and shown its latest tooling solutions.
See the Associated Press' video of that tour below:
The event came two days before Snap-on reported its 2017 first quarter fiscal results, which were quite positive. The company's Q1 sales of $887 million were up 6.3 percent year-over-year, with organic sales up 4.1 percent. Total profit of $141.6 million increased 10.4 percent and operating profit of $169.5 million increased 9.1 percent. Snap-on's results fell in line with a number of other well-known industrial manufacturers that have seen a considerable rebound in customer activity after enduring a market recession throughout 2015 and 2016.
See Trump's full speech from Snap-on's Kenosha headquarters below: