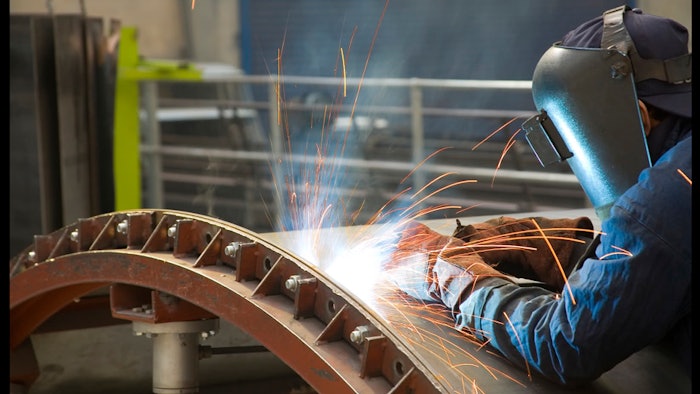 LONDON — Technavio's latest report on the global welding safety market provides an analysis on the most important trends expected to impact the market outlook from 2016-2020. Technavio defines an emerging trend as a factor that has the potential to significantly impact the market and contribute to its growth or decline.
Abhay Sinha, lead analyst from Technavio says, "A significant part of the demand in the global welding safety market will arise from the construction and manufacturing sectors, which jointly accounted for nearly 50 percent of the overall market in 2015."
Welding is one of the major processes in the construction industry. The global construction output is expected to grow by 85 percent to reach USD 15 trillion by the end of 2030. The global construction industry will grow at an annual rate of 4 percent until 2030, which is higher than the projected global GDP growth rate of 3 percent per annum.
Technavio's sample reports are free of charge and contain multiple sections of the report including market size and forecast, drivers, challenges, trends and more.
The top three emerging trends driving the global welding safety market according to Technavio research analysts are:
Introduction of advanced solutions for welding safety
Emergence of laser welding
Growing demand from wind energy sector
Introduction of advanced solutions for welding safety
The changes in the products offered by the global welding safety market are directly related to the innovation in welding equipment. Manufacturers introduce new products to cater to the changing demand and safety requirements from the customers. For, instance, traditional welding helmets or passive helmets have a dark lens that does not change or adjust according to the type of welding arc. So, the welders need to lift the helmet to adjust the welding machine on the metal sheet and lower it before welding. Manufacturers have introduced auto-darkening lenses to address this issue.
However, a welding helmet is not often optimal for certain working environment such as specialized applications, enclosed areas or when background lighting or sunlight interferes with the auto-darkening lenses. So, the manufacturers have introduced advanced auto-darkening helmet technology in which the helmet lenses respond more consistently to protect the welder's sight, activate more efficiently in low amperage welding processes, and eliminate interference from direct sunlight without hindering the work. These helmets also have anti-spark and spatter face shield and full flame-retardant head covering, which can be used as an alternative to standardwelding helmets or hand-held filters. The auto-darkening helmets also include different operational modes, which adjust the lens shade for grinding or plasma cutting, increasing the flexibility. This allows a single helmet to be used for several jobs and applications.
Emergence of laser welding
The emerging laser welding technology is used to weld a wide range of materials, especially those with higher melting points and heat conduction. This particular welding method joins components that require low thermal distortion and high-speed welding. Laser welding finds application where other forms of welding are insufficient. The majority of the demand comes from nascent industries such as medical device technology, photovoltaics, and entertainment electronics. Laser welding offers high flexibility, precision, and productivity, which in turn aids in mass production. Laser welding creates a unique coherent light that is tightly focused unlike ordinary light.
The growing market for laser welding is gaining traction especially from end-users new to laser technology. The offshore wind energy is one of the recent and most significant end-users of laser welding process. Wind turbine towers and substructures are the major target areas for laser welding equipment manufacturers. Other sectors like automotive and construction are also contributing to the demand for laser welding equipment. Although the market growth will be negatively affected by factors like the shortage of skilled welders, high initial cost of ownership, and high labor costs, the penetration of laser welding in industries is growing. This will contribute to the global demand for welding safety equipment.
Growing demand from wind energy sector
With depleting fossil fuel resources and stringent environmental regulations on the generation of electricity from non-renewable sources, there has been a gradual shift in the focus toward the use of non-renewable sources, such as wind energy.
"In wind energy, wind tower fabrication requires the formation of huge tubular shapes from individual cans. Internal and external longitudinal welding is required for the cans while forming, tacking, and welding of internal and external circumferential joints are essential for the formation of the tower. Foundation flanges, port-holes, and subcomponents are the other areas that require welding solutions," asserts Abhay.
The key vendors are as follows:
3M
Honeywell
Lincoln Electric