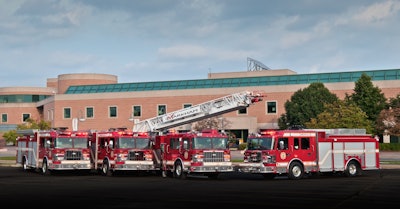 SNYDER, Neb. (AP) — Steve Burger lives just four blocks from Smeal Fire Apparatus Co., but he and his 21-year-old son hop into their old beater and drive to work together five days a week.
The Lincoln Journal Star reports that like so many others around here, working at Smeal is practically in their blood, and they have no problem spending almost every hour of the day together.
Burger has worked at the plant that makes fire trucks for 15 years. His brother works there, too. And his son, Chris, has been at the plant since he graduated.
"I just figured I'd get a good job right outside of high school and got comfy," Chris Burger said.
The Smeal plant sits on the western edge of this village of 298 not far from Fremont, and it employs more people than that — 313 on a given weekday — in jobs ranging from the front offices to the production lines working on 45 to 60 firetrucks at a time.
It's an ongoing joke that Snyder's population doubles during the week because of the plant, although many of the employees are from here.
It's a tight-knit community; basically, everyone knows everyone. There's a post office, a restaurant, a bar and grill, a beauty salon, a library and a gas station that doubles as a small grocery store. According to Google Maps, one can walk across town in 11 minutes.
Most of the people who live here are in the business of saving lives, and they're proud of their firefighting heritage. They enjoy walks in Fireman Park and attend community events at the Snyder Firemen's Ballroom.
Roughly 35 of them belong to Snyder Volunteer Fire & Rescue, and most of them also work full time at Smeal.
"When we get a call, you can just see them coming out of Smeal," Village Board Chairman Joel Hunke said.
Hunke is also a volunteer firefighter and is part owner of Hunke Manufacturing, which makes water well pump hoists and servicing equipment and employs roughly 30 people. Snyder is also home to DankO Emergency Equipment Co., another 30-person employer, and Omaha Steaks, where 70 people work.
And then of course there's Smeal, where men and women work for eight hours a day building firetrucks from the engine up using raw steel. They take pride in their work, painstakingly welding the metal, testing parts, painting each section and making sure their customers are completely satisfied.
"You put in an honest day's work for an honest day's pay in Snyder," said Hunke. "The one thing that's amazing is meeting people who have no idea what's going on here, and they learn and think it's impressive. It's fun to talk to the guys from big cities who come out."
That happens often. Smeal builds firetrucks for whoever orders them, and customers come here a minimum of three times before driving their order off the lot. Smeal has built trucks for fire stations in California, North Carolina, Canada and more.
"It brings in some tourism to us and the other towns around here," said Smeal CEO Mark Hu
Smeal began in 1963 when the Snyder Rural Fire Board asked the late Don Smeal to fix a leak in its firetruck tank in his welding shop. He couldn't repair the tank, but the Army veteran, who was also a volunteer firefighter, knew his way around a truck and made a suggestion: If the board would buy a new chassis, he would design and build a new truck.
Board members agreed, and Smeal built the first firetruck to have a power take-off water pump, 1,200-gallon water tank, enclosed crew cab and a 42-foot hydraulic aerial ladder. It's now on display in a Kearney museum.
Soon, other fire stations and cities were ordering trucks from Smeal, and Smeal Fire Apparatus Co. was born. Today, the company has smaller plants in Wisconsin, Pennsylvania and Neligh, an hour and a half north and west of Snyder.
The trucks are fully customized.
When asked jokingly if Smeal would make a purple and green fire truck, Chief Financial Officer Jeff Scherer said that's not outside the realm of possibility.
"If that's what the customer wants," he said. "We've made a green truck, we've had a white one."
Most recently, the factory has filled orders for St. Louis; Chattanooga, Tennessee; Vancouver, British Columbia; Omaha and Lincoln.
But before Smeal Fire Apparatus Co. took off, Don Smeal tried his hand at making water well pump hoists. A year before Smeal made his first firetruck, he designed and engineered his first well pump hoist.
Joel Hunke and his brothers eventually bought the well pump plant, turning Smeal Manufacturing into Hunke Manufacturing, now across the street from Smeal Fire Apparatus Co.
"We still use the same original Smeal products," Hunke said.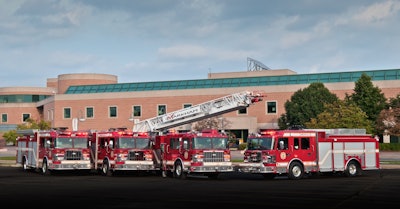 It's hard to envision Smeal without Snyder or vice versa.
"The town impacts everything we do," Huber said.
He describes the relationship between Snyder and Smeal Fire Apparatus Co. as symbiotic.
During the week, many of Smeal's employees go downtown to eat at Adie's. Or down the road to grab a sandwich and soda from the Snyder Mini Mart.
"We have employees from all over," said Huber, who lives in Omaha but patronizes Snyder businesses every day. "We have guys from Omaha and even some from Lincoln. When they're here, they eat at Adie's. We fill up at the Mini Mart. I get my hair cut at Leona's Place."
At noon every day, Adie's fills up and parking spots in the business district become scarce.
Steve Burger said a lot of his coworkers live in nearby towns, including Scribner (population 843) and Dodge (608).
"They contribute a lot to the community," he said. "We don't have a lot going on here, but they contribute."
Huber feels close to Snyder and its residents. He walks around the 330,000-square-foot facility saying hi to nearly every employee he passes, calling them by their first names. He knows their backgrounds and what they're good at. But he has a hard time keeping Smeal fully staffed in shrinking Snyder.
According to U.S. Census data, 318 people lived in Snyder in 2000. By 2010, that fell to 300. The estimate for 2014 is 298.
Shrinking numbers aside, Huber said, it's hard to imagine the demise of Snyder.
"We're able to attract people to come back and live here — there are good benefits to this town," he said. "The question we have to ask now is how do we reverse this trend (of a declining population)."