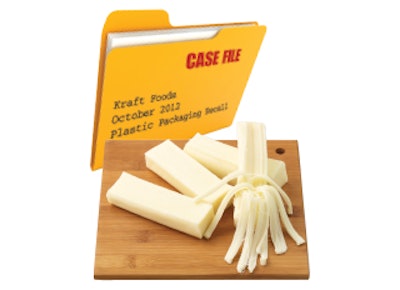 This article originally appeared in the October 2013 issue of Food Manufacturing.
Kraft Foods, one of the world's largest food companies, faced a costly recall last fall over a packaging malfunction that disrupted the company's supply chain and had the potential to endanger consumers.
On October 8, 2012, Kraft Foods voluntarily recalled shipments of its Jalapeño String Cheese after a customer complaint led to the discovery that the product's plastic packaging was sticking to the cheese.

Recalls can be costly for manufacturers. The costs of the recall itself are immediately evident and include the cost of return shipments, customer refunds, staffing of phone banks to answer consumer questions, lost sales and down time as lines are inspected for errors that led to the malfunction.

If the product contamination is severe enough to negatively impact public health, the cost of litigation can be severe as consumers seek redress.

In addition, manufacturers may also face soft costs as retailers and consumers lose faith in the integrity of the brand's products and their safety. These dangers are especially stark for small manufacturers whose goods may not yet be well-positioned as quality products in a crowded marketplace.

Luckily for Kraft, the snack foods giant has a well-established brand and immediate name recognition that one recall is exceedingly unlikely to tarnish. Additionally, although 2,700 cases of the product were shipped to stores across the U.S. before the packaging malfunction was discovered, the string cheese was recalled quickly and with no reported harm to consumers.

The FDA did warn that the film might possibly create a choking hazard for consumers, and although one complaint about the faulty product was filed by a consumer, no harm was done to the public, which was warned not to eat the product, but rather to return it to the place of purchase for a full refund, which retailers then passed on to Kraft.

Manufacturers have a wealth of choices when selecting packaging partners, and choosing the right packaging supplier means working closely on material specifications and taking into account the interaction between materials and packaging equipment to ensure the durability of all packaging materials after processing and packaging.

Though well-established food companies like Kraft no doubt perform this kind of due diligence, packaging and equipment malfunctions may still occur.

Quick response and communication with consumers, as Kraft demonstrated in this incident, can make the difference between a minor blip on the food safety radar and a public health catastrophe.

Robust ERP software which contains components for supply chain visibility can help immeasurably in responding in a timely fashion to these types of incidents. In a situation like Kraft's, with the entire supply chain in view, manufacturers can see which products were packaged on a particular piece of equipment or with a specific lot of packaging material. They can also see where such batches were shipped and track the immediate location of those shipments.

This kind of visibility can speed up the response time on a recall, helping to preserve brand integrity and the health of consumers who buy a company's products.