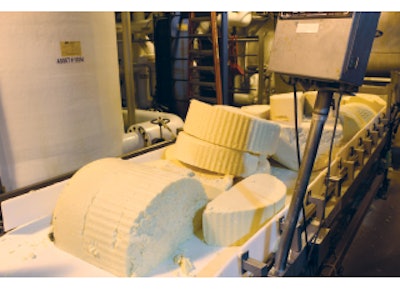 This article first appeared in Food Manufacturing's November/December print issue. 
Troy Grove stands in the lobby of Berner Food & Beverage on a recent summer weekday, pointing out to a pair of visitors a decades-old framed aerial photograph of the Illinois food manufacturing facility. Grove, the company's Chief Information Officer, says the picture offers not only a snapshot of Berner's history, but also illustrates the significant growth that has taken place in the years since. 
Berner's since-expanded corporate headquarters and manufacturing facility sits tucked away in the midst of cornfields, and a gravel road or two, in Dakota, Illinois. The company also now has two warehouses with a combined 200,000 square feet of space in its company footprint — one in Freeport and one in Rock City — with both located within 15 miles of the manufacturing facility. And although Berner Food & Beverage remains relatively hidden in the unassuming northern Illinois landscape, the products it produces are front and center on the shelves of grocery stores and other major retailers across the United States. 
As a leading private label and store brand producer and contract manufacturer of beverages, cheese products and other dairy-based foods, Berner's current product line represents a significant evolution from a company that opened in 1941 as a maker of natural cheeses. 
"The company has been formally in business (for more than) 70 years and a lot of things have happened. Originally, we were in natural cheese from 1941 through 2006. And during that time we made several types of private label cheese," Berner President and CEO Steve Kneubuehl said. "We didn't consider ourselves a private labeler at that time because private label didn't really come into being formally until about the 1980s. ... but we made cheese for all kinds of companies, especially out East. Our biggest one was Alpine Lace, a Swiss-laced cheese which was a low-sodium, low-fat cheese that was very popular in the deli case from the 1980s all the way through 2005.  
"Back in the 1990s, we decided we needed to diversify our product line so that we could capture more sales. ... and also help with risk by having more products so we were not reliant on one product like the Alpine Lace brand. So we went into dairy-based, shelf-stable products. Our first one was the emulation of Cheese Whiz by Kraft. Once we did that, we got into the aerosol (cheese) business and did the (products) for all the private label store brands. So everything that we are into, we're about 85 to 95 percent penetrated as private labelers. We just about do all the private label in the products we participate in, in the market." 
Berner's current product line includes aerosol cheese products, jarred cheeses, salsa con queso, various flavored dips, alfredo sauces, coffee beverages, protein energy shakes and ethnic beverages. Berner is the primary producer of aerosol cheese products in the United States. 
"We're basically the last manufacturer standing for aerosol (cheese)," Kneubuehl said. "We're like the aerosol (cheese) capital of the world here in the cornfields of northern Illinois." 
Private Label the Priority
Private labels and store brands are nothing new to the food manufacturing and consumer landscape. But the prevalence and popularity of that portion of the marketplace has grown significantly over the last two decades. Since Berner was already involved in producing private label and store brand products in the natural cheese market, following that path with other products was a somewhat natural outcome. 
"The real store brand movement probably began about 1995-96, slow at first, (an) initial penetration of five, six, seven percent, not really big, not really significant. Not until the 2000s — probably, 2003, 2004, 2005 — did they really begin to take off and penetrate to the 20 percent or more level. So one of the things I think we've enjoyed, and it's probably just a timing thing, was we enjoyed riding the wave of the growth of private brands," said Berner Vice President of Sales Steve Fay, who noted that the private label and store label brand products his company is involved with now have greater than 20 percent market penetration in their respective product groups. 
"We always talk in terms of what is the perfect balance, because there is symbiosis between the national brand and the store brand private label. The national brand having sufficient enough shares, efficient enough revenue generation that they can basically lead the category and they can bring prominence to the category and bring attention to the category. Meanwhile, you can view it as (national brands) are the ski boat, and we are the skier behind." 
Through its "Make it Yours" customer program, Berner is able to take a customer's concept for a dairy-based, shelf stable food item or beverage item and develop a prototype that can lead to full-scale production. Berner's research and development team has the ability to draw on national brand equivalent formulas or create a proprietary formula specifically for the customer. Berner also offers processing, supply chain management and project management solutions for its customers. 
"The business model for private label is you have your own expertise — ours is in dairy-based products — and we have just grown up with that," Kneubuehl said. "We have a really good R&D department that excels in that. Anything that's got milk, butter, whey protein, concentrated milk or cheese we can do well, whether it is a beverage or a shelf-stable product. We can make those really well." 
Berner currently has between 300-400 active labels across its multiple product groups. A workforce of approximately 300 employees keeps product lines running 24 hours a day, seven days a week. A recent weekday saw three product lines being produced — an aerosol cheese product, an alfredo sauce and a protein energy drink. 
Branching Into Beverage
While cheese products, dips and sauces have long been staples of Berner's product portfolio, the company's foray into beverage products is a relatively recent one. 
A beverage initiative was undertaken in 2008 and started with some iced latte and coffee energy beverages. Berner had been looking to add a product line that complemented the somewhat seasonal sales cycle of shelf-stable cheese and dairy-based products already being manufactured. And the inspiration came from a Berner employee who was fond of a national coffee chain's bottled lattes and coffee drinks. 
"We had a business that had September, October, November, December, January, a little bit of February. ... to make money," Fay said. "Basically our assets were underutilized for half the year. The deal was, we knew (the new product line) was beverage.
"We toyed around with a bunch of stuff. ... and we had an employee that worked for us at the time. ... and she kept coming in and she said, 'You see that (national chain) stuff? You see that (national chain) stuff?' and I said, 'Nah, it's not going to work for us.' We finally did a scope — an examination and research project on the (national chain) latte — and we decided it was an item that we could make. That kind of was the birthing of all the milk-based products we do. ... Now we're branching out into high-protein drinks and doing some really good stuff there." 
The beverage product line has expanded to protein energy drinks and ethnic beverages, and now makes up approximately 50 percent of Berner's business, according to company officials. "Now we're making a lot of national brand products and working with these companies to develop milk-based beverages like the coffee lattes, high-protein drinks for companies like Monster, and have been very successful in those drinks," Kneubuehl said.
Production, People, Process
Berner's manufacturing facility is USDA approved, SQF2000 Level 3, HACCP certified. According to Berner's Quality Manager, James Humphrey, there are two common production themes across the company's diverse product line — a hot fill, where the product is cooked at a high temperature, filled into various containers and then cooled; and via retort, where the product is cooked, filled into a glass or metal container that is sealed and then transferred to a pressurized cooking vessel where it undergoes a high-heat treatment to make the product shelf stable for a longer period of time. 
"Time and temperature is one of the biggest things we monitor. And it's easy to monitor. But the more complicated item that we make here is a retort — whether it be a latte, beverage, alfredo, dip or what have you. There's a lot more involved in that when it comes to monitoring CCP. We do utilize some technology. An example would be we do x-ray checks to make sure the (container) head space is monitored properly. All of our retorts, there's three pieces of paperwork that get reviewed," Humphrey said. "Those get verified by someone from quality, usually the quality supervisor or myself. ... They verify to make sure it's being done properly. They check all the documentation, and nothing gets released until that is all done and all the production paperwork is also reviewed."
Humphrey said the growth in Berner's product offerings over the past several years has led to fewer line changeovers and a more simplified process when a changeover does occur. The company is now more line-specific, with one line dedicated to coffee beverages and another for retort items. "We have operators trained on that (specific) line because it's running all the time," Humphrey said. "The learning curve (for employees) has shortened quite a bit because they are always running that product."  
Like many manufacturers, employee attraction and retention can sometimes be an issue. And while Berner is no exception, it does utilize a unique testing program to make sure the employees it does hire are able to be successful in whatever role they fill.  "I'm really proud of our diversified workforce. We have all kinds of people that work on the production floor and support what we do," Kneubuehl said. "The workforce is always changing and there are skills gaps out there and we're finding that the biggest skill gap is in the soft skills — of showing up for work, teamwork, having the right positive attitude, loyalty to your company. ... And we've been able to find good people like that." 
Berner employs a specific testing process developed by ACT for all new employees — regardless of education level — in order to gauge their existing skills and experience, and to also determine where they might fit best on the production floor. The tests measure reading, math, information locating skills and teamwork skills. "We're able to get a good viewpoint of what type of person we have starting out and we try to match that person up with a job that's available," Kneubuehl said. "We've been highly successful doing that." 
Berner's investment in its workforce is matched by its reinvestment back into the company.
In 2013, the company revamped its aerosol production line by adding new equipment. Two retort vessels were also added to the production floor, and an automated palletizing system was introduced. Another retort vessel was added in 2014 — giving the company a total of nine — along with an upgrade of the facility's water handling and control system.  "The last two years have seen significant growth," said Grove, who noted that more capital improvements are in the works for 2015. Those plans include adding an additional boiler and significantly increasing the plant's chiller capacity. Berner also plans to increase its air capacity in 2015. 
Berner adheres to lean practices and tries to promote lean in whatever it does. That lean mindset, according to Kneubuehl, allows Berner to stay on a successful path. 
"The name of the game today is you need to be lean. All our processes, everything is driven by lean and eliminating waste, and that's what we continuously do. That's our best avenue to compete and provide value and the highest quality," Kneubuehl said. "It's an evolution and a journey every day for continuous improvement."