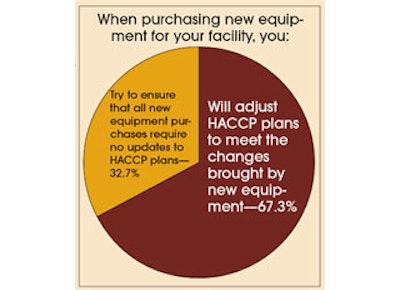 This article originally ran in the October 2012 issue of Food Manufacturing.
The Food Safety Update section of Food Manufacturing is designed to offer our readers insight into the state of food safety programs across the industry. We received hundreds of responses to this month's survey on equipment acquisition.
Food safety is perhaps the most important issue in the processing environment for food manufacturers, and it is one that sets the food industry apart from other processing industries. Shrewd acquisition decisions must be made in order to find equipment that not only meets sanitary standards but that helps manufacturers achieve those standards as well. For this issue, we asked food processing experts about how they use equipment to meet food safety challenges.
Though many pieces of equipment can aid in achieving food safety goals, new equipment acquisitions often mean adjusting food safety plans. When readers were asked if an equipment acquisition had led to a HACCP plan update over the last 12 months, 50.9 percent said "yes." Further, as seen in the chart below, an overwhelming majority of readers reported adjusting HACCP plans to meet new equipment challenges rather than trying to find new pieces of equipment to fit into their existing HACCP plans.
Exactly half of respondents reported making food safety plans available to equipment vendors to ensure they are able to produce equipment that will fit into existing plans. Food manufacturers further report that equipment manufacturers are generally aware of the food safety needs of food processors and are capable of meeting those challenges; 87 percent report that equipment vendors are "aware of and sensitive to" food safety needs. Respondents reported some specific equipment that requires updates to HACCP plans after purchase. This equipment includes:
Mixers/Blenders/Grinders—48.1%
New packaging equipment—36.5%
Sensors/Detectors—34.6%
HVAC/Air handlers—28.8%
Large storage tanks/vessels—25.0%
Conveyors—23.1%
Form/Fill/Seal systems—23.1%
Bulk handling equipment—21.2%
Pumps/Valves—19.2%
Feeders—15.4%
Palletizers/Cartoners/Stretch wrappers—11.5%
Sometimes equipment changes are necessary to comply with updated food safety regulations. 74.5 percent of survey respondents reported that their facility has had to acquire new equipment in the past 24 months in order to stay compliant with changing regulations. Half said that HACCP plans have changed in order to comply with the Food Safety Modernization Act.
Food Manufacturing readers were asked, "How heavily does food safety factor in to equipment purchasing decisions?" They responded:
Very—69.1%
Somewhat—18.2%
Little—12.7%
To meet this demand for equipment that complies with food safety standards, preliminary evidence suggests that the industry may be loosening its purse strings. When asked about whether equipment acquisition budgets have changed over the past 12 months, readers reported that their budgets:
Remain unchanged—45.5%
Have increased—36.4%
Have decreased—18.2%
This information may signal confidence in the food market, and the acquisition of new food safety equipment will do much to lead to a safer food supply. u