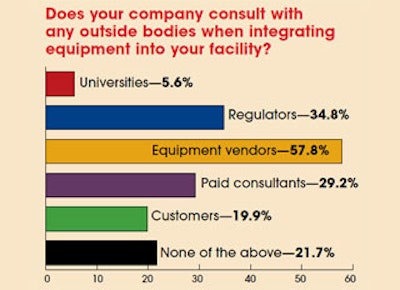 This article originally ran in the June 2013 issue of Food Manufacturing.
The Food Safety Update section of Food Manufacturing is designed to offer our readers insight into the state of food safety concerns across the industry. We received hundreds of responses to this month's survey on equipment and sanitation.
Food safety is about planning, training and sanitation. But it's also about the equipment you purchase and how it integrates into your facility and existing food safety plans.
As evident in the chart below, food manufacturers have differing policies for integrating new equipment into existing plans. Only slightly more than half of readers report choosing equipment that will fit into existing plans, while the rest say they will change or update plans to bend around new equipment.
As seen in the chart at right, Food Manufacturing readers report consulting with a wide range of outside food safety experts when integrating equipment into machines. This consultation typically comes after an initial discussion with food equipment vendors; 86.3 percent of readers say they "consult with equipment vendors about food safety concerns" before they buy new equipment for their facilities. Just over 60 percent of survey respondents even report that vendors "help review food safety plans." Considering such close consultation with equipment vendors, it's no surprise that 88.1 percent of survey respondents report they generally find equipment vendors "knowledgeable about the unique sanitary challenges faced by food processors."
A sizeable minority of food manufacturers report having made changes to their plant equipment in the past two years due to safety and regulatory concerns. In the past 24 months, 36.3 percent of readers report replacing "an existing piece of equipment specifically because of food safety concerns," and 23.4 percent report replacing "an existing piece of equipment specifically because of food safety regulations."
In the same time period, 40.1 percent of respondents report "adding detection equipment (x-ray, vision, sensors, metal detectors, etc.) to an existing processing line," while 50.9 percent report replacing components (from standard to washdown, from plastic to stainless steel, etc.) "in order to improve food safety." Just under half — 49.7 percent — report shying away from a purchase of refurbished equipment due specifically to food safety concerns.
Food manufacturers overwhelmingly report several equipment design features that they believe are "especially appealing from a food safety perspective." Readers report seeking equipment with:
Stainless steel—88.2%
Clean in place—70.8%
Washdown ready—68.9%
Seam-free design—60.2%
Other—8.7%
When new equipment is purchased, the readers report training occurs:
Immediately—69.6%
As the need arises—24.2%
Only if it's a particularly complicated operation—5.0%
When their next regularly scheduled training session occurs—1.2%
The results of this survey indicate food manufacturers are keenly aware of food safety concerns as they purchase equipment. This awareness may manifest differently, as manufacturers take different paths to equipment acquisition and implementation, but keeping an eye on food safety during these processes will mean a safer food supply for everybody.