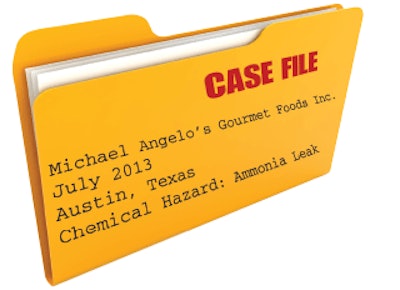 Ammonia is a gas that's valuable as a food manufacturing refrigerant. It's also considered a high-risk health hazard as it's corrosive to the skin, eyes and lungs. Ammonia is flammable at low concentrations. It can explode if released in an enclosed space with a source of ignition or if its holding vessel is exposed to flame.
The 2013 fertilizer disaster in West, Texas, which killed 15 and wounded 226, is just one example of what can happen when ammonia is improperly treated. Aside from very real human consequences for inadequate safety surrounding ammonia, there are regulatory penalties for plants whose ammonia plans endanger their workers. Here, Food Manufacturing details The Department of Labor's Occupational Safety and Health Administration (OSHA)'s investigation food manufacturer that failed to properly protect employees.
OSHA cited Michael Angelo's Gourmet Foods Inc. for six serious safety violations of the agency's Process Safety Management (PSM) Standard. The company allegedly exposed workers to chemical hazards from an ammonia leak in July 2013 at its plant in Austin, Texas. PSM encompasses a detailed set of requirements and procedures employers must follow to proactively address hazards associated with processes and equipment that use threshold quantities of hazardous chemicals. A serious violation occurs when there is substantial probability that death or serious physical harm could result from a hazard about which the employer knew or should have known.
According to OSHA, Michael Angelo's Gourmet Foods exposed workers to chemical hazards from an ammonia release in July 2013 at its Austin plant. A nearby forklift tore loose the bottom valve and piping of an ammonia storage vessel. Proposed penalties totaled $42,000.
"A process safety management program is meant to anticipate and plan for an array of failures that could cause the release of hazardous chemicals," said Casey Perkins, OSHA's area director in Austin. "Given the multiple deficiencies in this program, it's fortunate no serious injuries resulted."
Violations included:
- Failing to consider the layout of ammonia equipment with regard to surrounding forklift operations when performing a process hazard analysis,
- Failure to renew the process hazard analysis every five years,
- Failure to inspect and maintain the ventilation system,
- Failure to conduct a compliance audit every three years, and
- Failure to track and complete action items from previous compliance audits.
Michael Angelo's Gourmet Foods, which employs about 330 workers, has a long history of OSHA violations, the agency said in its statement. The Austin location was inspected seven times from 2003-2013, focusing on process safety management and machine guarding, energy control and confined space entry requirements. The company has settled each of the previous cases and has paid more than $279,000 in cumulative fines, OSHA said.