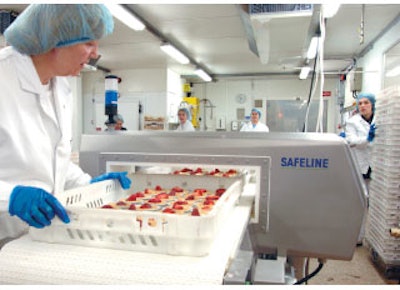 The Food Safety Modernization Act (FSMA), which was signed into law in January 2011, places the responsibility for food safety squarely on food producers, with requirements that will come into force as all portions of the Act are finalized and implemented. 
FSMA also gives the FDA expanded authority in requiring recalls, which the agency has already used on numerous occasions. 
In short, FSMA represents a major shift in the regulatory landscape and a major influence on how food manufacturers and processors manage their operations. 
One of the critical assets that most food companies use to comply with FSMA requirements is a systematic, machine-based inspection of products and packages to detect and reject contaminated or otherwise non-compliant products or packaging, while at the same time maintaining accurate, complete records of those actions — an essential feature, since those records will have to be produced if the FDA comes inspecting.
Preventive Controls
For years, food manufacturing and packaging companies have thought of the Hazard Analysis and Critical Control Points (HACCP) approach to food safety developed in the 1960s as the gold standard of food safety assurance. But the FDA's 2013 Proposed Rule for Preventive Controls for Human Food as required by FSMA takes a broader approach to food safety. It requires preventive controls be based on careful hazard analysis, but describes those controls as being "similar" to the HACCP system, and including controls that may be required at points other than the traditional Critical Control Points.
This broader approach to food safety assurance reflects the FDA's revised position. It states that, while the proposed preventive controls are science- and risk-based, and require controls where necessary to prevent hazards to public health, they also need to be flexible to allow firms to develop preventive controls that fit their specific products and operations. This works as long as they are adequate to significantly minimize or prevent all food safety hazards that may occur.
Preventive controls are intended to ensure that hazards which are "reasonably likely to occur" will be significantly minimized or prevented. As a result, affected companies are advised to look beyond HACCP solutions when establishing food safety assurance programs and to establish in-house teams dedicated to establishing a complete program of hazard prevention controls. This written plan will contain a detailed documentation of identified potential hazards, operational food safety preventive controls and related maintenance operations. 
The written documentation will detail what potential hazards have been identified, what preventive controls have been implemented to prevent their contamination or otherwise affecting the safety of the food being processed and packaged, and how those controls will be verified, validated and maintained. 
The Role of Automated Inspection Systems 
Once a safety regimen is established, it is automated inspection systems that most effectively provide the means to control both contamination and other safety issues, ensure overall product and package quality and document the process and results. Documentation is critical, because it is an essential requirement of FSMA and one of the first things the FDA is going to ask for during an inspection.
The following are basic food safety inspection systems and how they help food processors and manufacturers avoid recalls and the potential liability involved should a defective or contaminated product reach the marketplace:
Checkweighing systems weigh packaged products to ensure stated package weights are accurate, and to ensure packages are correctly filled. Underweight packages expose the company to regulatory penalties; overweight packages give away product. Weighing is done on-the-fly at production line speeds and does not slow production. Continuing technical advances have made checkweighers faster, more precise and more compact. Non-standard weight packages are automatically rejected from the production line.

Metal detection systems inspect products to ensure they are free from metal contamination that may have been included in raw materials or may have been dislodged from processing equipment during production. Developments in inspection technology mean today's systems can detect very small contamination reliably and without false rejects. Products with contamination are automatically rejected from the line, and can then be reworked or discarded.

In some cases, depending on processing steps that may introduce metal contamination, metal detectors may be placed at several locations on the line. 

X-Ray inspection systems inspect products for both metal and other types of contamination — glass, bone, stone, certain plastics — and remove contaminated products from the line. The newest systems, introduced in the past year, use more highly sensitive detectors, which means their X-ray generators need less power, thus providing the same results in smaller, more energy-efficient systems that do not require cooling capability, saving cost and reducing space requirements.

Machine vision systems use cameras, lights and sophisticated software to inspect products, packages and labels for defects. The system compares what it "sees" with a reference database and rejects what does not agree. Vision can detect malformed product, low or high fill levels of liquids or powders, cocked or insecure closures, incorrect labels or labels with wrinkles that cover vital ingredients. These are especially critical systems, since the FDA reports that almost half of all recalls it orders are due to mislabeling — especially the omission of allergens from ingredient lists. 
All inspection systems are designed to be as compact as possible, so they fit into or over existing production lines, requiring no breaking into the line. They may be used singly or in combination. There are also systems that integrate multiple inspection systems in one machine, such as a checkweigher with a metal detector. This saves both valuable production line space and cost.
The controls of all of these systems interact with each other and with the control systems of the production line so line speeds and inspection speeds are coordinated, and defective or contaminated products can be identified for rejection farther down the line. Inspection systems are sized to match the size of the products they will inspect, and they can be customized to meet the specific needs of the end-user. 
Recordkeeping
Some manufacturers of inspection equipment also introduced data collection systems that instantly collect inspection and rejection data, store it in a central location (that can also collect data from a company's multiple facilities) and make it available on demand in the event of a system performance review or an FDA inspection.
This capability is invaluable because it offers insight into the performance of your production operation, often pinpointing bottlenecks and other problem areas, along with facilitating continuous improvement leading to increased efficiencies. 
Cost
Sophisticated and high-speed, efficient inspection equipment can be deemed costly when viewed as a capital cost. However, these are well-built machines that perform continuously and tirelessly for years. Viewed in terms of their long-term assurance of quality, product safety and protection against recalls and even liability lawsuits, they are a valuable investment that provides an almost immediate measurable return. 
About the Author
Robert Rogers, Senior Advisor for Food Safety and Regulation at METTLER TOLEDO Product Inspection Group, serves as a subject matter expert to various regu-latory and industry organizations such as the Food and Drug Administration (FDA), Grocery Manufacturers Association (GMA) and the Packaging Machinery Manufactur-ers Institute (PMMI) and writes articles and blogs about this critical industry issue. He can be contacted directly at robert.rogers@mt.com or by telephone at (813) 342-9138.