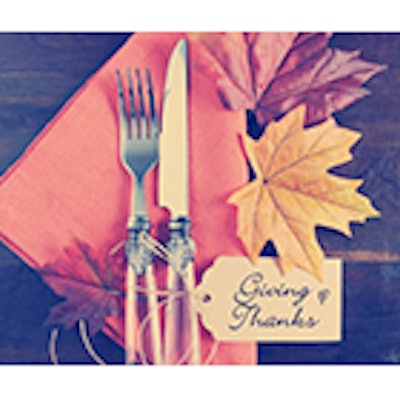 Thanksgiving is a good time to remember to be grateful for farmers, farm laborers, cooks, and food service workers. Unfortunately, while we are giving thanks for the harvest, we are also wasting massive amounts of food. Between Thanksgiving and the New Year, the United States will waste about five million tons of food. In one year, Americans alone waste about 34 million tons. That's a lot of turkey, pie, and Christmas cookies ending up in the trash—instead of in our stomachs.
According to author and food waste expert Jonathan Bloom, food waste is not just a moral issue, but also an environmental issue. "A tremendous amount of resources go into growing our food, processing, shipping, cooling and cooking it," said Bloom. "Our food waste could represent as much as six percent of U.S. energy consumption."
"Landfills are the second largest human-related source of methane. Food is the second largest component of landfills. In a sense we're aiding global warming when we throw food in the garbage," explains Bloom.
There are solutions to this dilemma. Food rescue organizations, and practices that reduce food waste, are gathering support across the country. From a few friends picking up leftovers at a catered event, to a statewide ban on food waste (like the law recently passed in Massachusetts), eaters, businesses, and policymakers are preventing food loss and waste. Organizations and food programs in cities like San Francisco and New York are collecting leftovers and food past their "sell by" dates from grocery stores and cafes in hopes of creating meals that feed their communities, especially around the holidays.
Here's how you can cut down on food waste while enjoying your holiday favorites.
There are many more ways to make holiday traditions less wasteful and more delicious for everyone. Do you have a creative way to reduce holiday food waste? Email me at danielle@foodtank.com.
By Danielle Nierenberg, Sarah Small and Kathleen Murphy