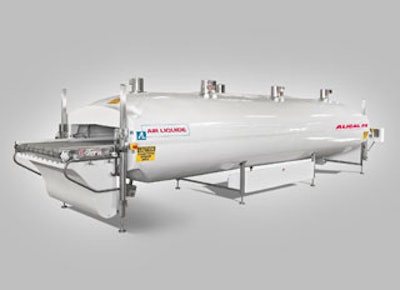 For seafood consumers, two things are a given: seafood should taste fresh and it should be safe to eat. Fresh taste and good value will win the customer; food safety will protect the customer and serve the business.
Since 1985, Orca Bay Seafoods, headquartered in Renton, Wash., has lived by those values, combining convenient and informative packaging with wholesome and delicious seafood. The company distributes retail and foodservice seafood products, including its own Orca Bay brand club store and 10-ounce retail lines throughout the U.S. The company also works as a private label packer, manufacturing and packaging food for its clients.
Orca Bay's products can be found nationwide at major club stores as well as traditional retailers and foodservice distributors. Among Orca Bay's retail products is the popular SteamWell entrée lineup, launched in 2009, which features a "cook in steam package" that provides a faster, more uniform cooking process for frozen fish. The line includes two 4-ounce filets of fish covered in 2 ounces of sauce, and includes varieties such as Sockeye Salmon with Tuscan Herb, Tilapia with Chili Lime and Swai with Sweet Chili Agave. Frozen SteamWell entrées can be microwaved in their pouch in a matter of minutes or baked in a conventional oven.
Last year Orca Bay launched a full line of flavored seafood burgers available in Teriyaki Salmon, Teriyaki Tuna and Mediterranean Tuna flavors. These all-natural seafood burgers are designed to be cooked in a frozen state, further emphasizing consumer convenience.
Before these products ever make it to the customer's dinner table, however, they need to be frozen and packaged without sacrificing any of the freshness, taste and overall quality that customers expect.
When Orca Bay investigated quick freezing solutions for these products, Scott Russell, director of plant operations, and his management team began researching new freezing systems. Mechanical refrigeration was not an option given the higher capital cost and slower freezing process that can degrade and dehydrate frozen food. "A nitrogen tunnel freezers seemed to be the answer since nitrogen can rapidly freeze our products, cryogenically locking in moisture and flavor," Russell said.
Orca Bay's processing equipment had to meet two criteria, Russell said. "First, we needed generous production capacity at an affordable operating cost, and second, our equipment must be easy to clean and maintain," Russell said. "The older-design nitrogen freezing tunnels have cumbersome stainless steel doors prone to sweating and leaking. The door seals and other hard-to-access areas trapped water and food particles, resulting in potential bacteria growth and the need for meticulous cleaning to maintain our rigorous quality and sanitation standards. This could hurt production costs considerably."
When Russell learned about the ALIGAL™FZ cryogenic freezer of Air Liquide, he knew he had found the solution that met Orca Bay's requirements for production capacity and sanitation. Unlike conventional nitrogen freezers, the ALIGAL FZ addresses food plant sanitation concerns by opening fully so that all internal mechanisms are completely visible and accessible, and all surfaces are self-draining and easy to clean. Its stainless steel construction and molded gel-coated fiberglass body maximizes convection, widens the freezing zone and optimizes production capacity in a compact footprint.
The ALIGAL FZ cryogenic freezer utilizes a hydraulic top lift system that raises the cryogenic freezer top and lifts the conveyor at the touch of a button. Since the cryogenic freezer opens vertically it does not require additional plant floor space for swing-out doors. Orca Bay could add this freezing capacity without significantly impacting plant real estate. Nitrogen usage is minimized through isothermal cryogen injection and enhanced fan performance, offering flexibility for freezing a variety of products.
Air Liquide installs the nitrogen storage vessel, and assisted with permits, freezer installation and piping from the vessel to the ALIGAL FZfreezer. The company also provides safety and operational training to on-site personnel so they operate and maintain the unit safely.
"Our success is owed to a winning blend of quality, value and innovation — it's a formula that distinguishes every level of our business," said Ryan Mackey, president and CEO of Orca Bay. "Our freezing system ensures that we can continue to do so with the highest degree of food safety in the industry."