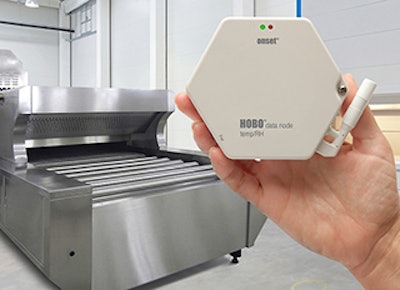 Founded in 1974, Mountain Country Foods is a family-run business that has evolved from a small beef jerky manufacturer to one of the largest pet treat manufacturers in the U.S. The Utah-based company maintains a strong commitment to product quality, and has consistently earned a "superior" rating from third-party auditors including A.I.B., ASI, and Cook & Thurber.
As part of its overall quality strategy, the company has invested in experienced Quality Assurance (QA) staff, an in-house chemical laboratory, and an effective HACCP program. Most recently, the company has added a network of wireless environmental monitoring sensors to its operation to streamline and optimize the QA function.
Going beyond manual trend logs
At the company's Spanish Fork processing facility, a series of four 100-foot long ovens are used to bake the treats, each with a number of zones that need to be checked for proper temperatures. Until recently, checking and recording oven temperatures was a manual and time-consuming process.
"The ovens are the critical control point of our facility, and once product goes through it is considered safe, sterile, and ready to eat," explains Caron McEwan, quality assurance manager for Country Mountain Foods. "As part of our HACCP plan, the temperatures need to be documented, as they are part of our criteria for releasing the product. We had someone going every hour to look at the temperature of each oven zone on the digital display and write it down. Having to do all this manually took a lot of time."
Additionally, with the manual process, there was no way to get anything close to a real-time view of temperatures during operation, which could be helpful in understanding any issues that might be causing temperatures to fall out of range.
"We measure temperatures from 130⁰F to 185⁰F degrees, and unless you had someone standing there watching the oven all day, it was hard to know what was going on," said McEwan.
A new way to measure
To overcome the limitations of manual temperature data collection, McEwan and her team researched new technologies and selected an automated data logging and monitoring system from Massachusetts-based Onset. The system consists of 18 Onset HOBO® ZW wireless temperature/relative humidity sensors, a data receiver and HOBOware® Pro software for managing the sensor network and graphing, analyzing, and exporting the temperature data. The system logs and wirelessly transmits near real-time temperature data from the network of sensors installed throughout the four ovens.
"We had previously used stand-alone HOBO temperature loggers for record-keeping and saw that wireless versions had been introduced," said McEwan. "We got in touch with an Onset application specialist to learn more and ended up going with the wireless system."
The HOBO ZW system overcomes one of the main problems of traditional wireless logging systems in that each node does not have to be in direct communication with the data receiver. When AC-powered, each node can be set up in dual purpose mode to act as a data logging node as well as a router to pass on data from other nodes. Through the combination of routers and data logging nodes, the system forms a self-healing network to ensure that the data reaches the receiver via an alternate path in the event the existing path fails or is obstructed.
Although the receiver and the router are typically AC-powered, they also have an internal battery backup so that temperature data can continue to be collected even during a power failure. The potential for collected data being lost is minimized due to the redundancy and backup built into the system.
Deploying the network
To create the sensor network, maintenance staff installed several of the octagon-shaped wireless sensors in each oven zone, mounting them directly to the side of the ovens where the LCD readout and controls are. Cabled temperature probes run from each sensor into the oven using conduit.
The system's data receiver is connected via USB to a dedicated computer running the HOBOware Pro software. HOBOware displays a list of all data nodes and measurement points in the network, along with near real-time graphs displaying measurements as they are taken.
The computer is located in a centralized area so McEwan, supervisors and other personnel can view temperature readings on screen as product travels through the ovens. The data can also be automatically sent at regular intervals to other computers through FTP and email, or to a local network folder.
According to McEwan, installation of the system was straightforward and didn't take much time.
"We set it up rather quickly," she says, "and so far it's been a really easy system to operate and manage. We found the software to be very user-friendly."
Analyzing the data
While the collected temperature data is primarily for documentation and record-keeping purposes, McEwan looks at the data on a daily basis. To do this, she downloads the data in HOBOware, and then uses the software's Export function to push the data out to a Microsoft Excel file where she reviews the daily temperature values.
"The wireless sensor system is still new to us, so we download the recorded data daily just to dot our I's and cross our T's," she said. "We can then check the data against product release records to make sure the product reached its critical point."
Alarm notifications mitigate risk
In addition to the near real-time graphing and trend logging capabilities, McEwan and her team take advantage of the system's alarm tools, which can notify them of potential problems.
"I have our system set up so whenever a zone is out of target range, there's an alert that comes up on the screen and I get an email and text message," said McEwan. "This lets me know what's going on at all times with the system at work and at home. I can choose to set targets above or below a specific threshold, or I can set a range. For example, if I want to set thresholds of 170⁰F to 185⁰F in a certain zone, the system will tell me if temperatures drop off or go too high."
Conclusion
Since installing the wireless sensor system, Mountain Country Foods has been experiencing a number of benefits. First, the automatic data collection capabilities of the system have enabled the company to document oven temperatures for its HACCP program while doing away with manual checks. This has freed up an employee to spend time working on other things. Secondly, plant staff can now view near real-time temperature readings during production, enabling them to keep a closer eye on the process and identify potential issues earlier. Finally, the system enables staff to be immediately notified by email and text if oven temperatures go outside of range, further helping ensure product quality and giving McEwan and her team greater peace of mind.
McEwan is considering adding additional sensors to the network for even tighter control.
"We are currently looking at installing another heating oven in our facility, and with that, we'd want to track relative humidity levels along with temperature," she said. "And, we have also talked about implementing wireless sensors in our freezers, particularly for the alarm capabilities, so we know if something goes wrong."