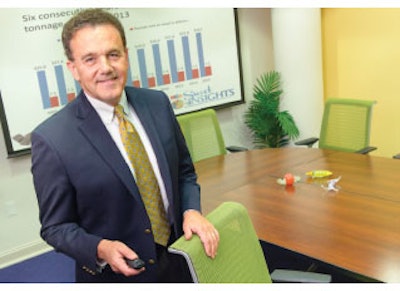 This article originally appeared in Food Manufacturing's October 2014 print edition.
Food Manufacturing spoke with Larry Wilson of the National Confectioners Association about trends and topics in the candy and confections sector of the food manufacturing industry.
Q. What are some of the emerging trends in candy/confections?
A. From quinoa to kale and from chia to chai, the candy and snack categories are no exception when it comes to the influence of the ancient grains, seeds and super food movements. According to IRI Worldwide, 53 percent of consumers try to eat foods that help prevent or manage health challenges and 45 percent seek snacks that offer benefits beyond basic nutrition. The candy industry is featuring an influx of products with pumpkin seeds, chick peas, pomegranate, seaweed, sesame, parsnips and even peabutter (a spread made from brown peas).
Peabutter might be a radical new concept for most Americans, but they are sure to be better acquainted with its distant cousin, peanut butter, which is popping up alongside other beloved ingredients like bacon, marshmallow fluff and banana. Coconut is also experiencing resurgence in popularity in sweet, salty, savory, chocolate and gourmet products. Other comeback kids include almonds, cashews and chocolate with hazelnuts — the latter of which grew an impressive 16 percent in sales in 2013. Caramels are also making a comeback in a big way — both on their own and as an inclusion in other products.
As taste palates and demographics continue to shift, candy manufacturers are increasingly adding more flavorful and exotic herbs and spices, including red chili, ginger, wasabi, seasalt, cracked pepper and garlic. Similarly, Tabasco is popping up in a variety of products, often paired with chocolate. 
Truffle oil, imported salts and browned butter add taste and texture to a wide variety of decadent candy and snacks introduced this year. Indulgent categories like premium chocolates, chocolate-covered salty snacks, bakery snacks, and dried meats and fruits have been on the rise for a few years, fueled in large part by the innovation snack makers have applied to new product launches. 
Candy makers are finding inspiration at the dessert menu, from strawberry cheesecake, banana creme pie, whoopie pie, birthday cake, s'mores and decadent chocolate spreads. Innovation also includes beer-themed chocolate and chewy candies to cherry cola, macchiato and crème de menthe flavored treats.
Q. What is the size and growth opportunity of the confectionery market?
A. Candy is big, growing and has potential to be a profit driver. In the U.S., sales reached more than $33.5 billion as of 2013, with chocolate being the largest contributor at some $20.6 billion — or more than 61 percent of the total market —non-chocolate at $10.3 billion and gum at $2.7 billion. 
Confections are the third-largest category in grocery and an important contributor to store profits. Confectionery sales and growth continues to outpace that of all other categories in the center store. In the last six months, total candy sales in the U.S. have grown by 1.5 percent. Over the past year, we have seen 2.3 percent growth. Chocolate is the leader among all segments with 3.9 percent growth in the past year. 
Q. How is confectionery performing in the global market?
A. The international confectionery market grew by an annual rate of 2 percent in real terms over the previous five years. However, there is more to consider to gain the complete perspective. With per capita consumption in Europe and North America declining, it is important to look at the country and market level to understand the largest and fastest growing countries and product categories, and identify the key trends that offer manufacturers opportunities, as well as those that threaten growth. Chocolate saw the fastest growth between 2009 and 2014, with a CAGR of 2 percent. Consequently, it also accounted for the majority of absolute growth over the review period, with global sales increasing by nearly US $11 billion. Non-chocolate confectionery grew at a slower pace, with a CAGR of just 1 percent. While Asia Pacific and the Middle East and Africa performed well, sales in Western Europe declined by over US $800 million, pulling down the overall growth rate. Sales of gum fell sharply in Western Europe and North America, with the category seeing almost no growth globally. 
Sugar-free gum did see relatively strong growth over the review period, but could not offset the move away from sugarized gum and bubble gum. The only regions where both bubble gum and sugarized gum posted positive growth were Asia Pacific and Middle East and Africa. All other regions saw declines. Euromonitor points to a disenchanted younger generation and rising dental health concerns. The latter would argue for increased focus on functional gum benefits. In the five years to 2014, retail value sales grew by more than US $6.3 billion in Asia Pacific, the highest of any region, although Western Europe still remains the largest confectionery market globally, despite seeing a decline over this period. Rising per capita consumption growth in Asia Pacific meant that in 2013 the region overtook North America to become the second largest confectionery market globally. Confectionery sales in the Middle East and Africa represent only 5 percent of the global total, but the region accounted for nearly 10 percent of the world's absolute growth over 2009-2014, posting a CAGR of 5 percemt. 
Q. How has the increased focus on labeling affected candy/confections?
A. Providing accurate and truthful information to consumers is a priority for all candy makers. Confectionery packages carry all required information with many companies providing additional information online. Additionally, manufacturers of over 80 percent of the candy on retail shelves have voluntarily committed to adopt front-of-package labeling. The industry will continue to follow developments regarding claims, genetically engineered ingredient labeling and more.
Q. Are consumers concerned about candy's role in the diet?
A. Most consumers already consume candy as a treat, eating no more than 50 calories a day from candy, which means they understand that candy is fun, to be enjoyed as a little something special.  America's confectioners have been making and selling candy for hundreds of years. Throughout the years candy makers have always sold a variety of candies, from chocolate to taffy to sugar-free and more. Not only is there a great variety of products that a consumer can choose from based on what is most important to them, there are also a number of sizes available. Additionally, manufacturers of over 80 percent of the candy on retail shelves have voluntarily committed to adopt front-of-package labeling. (The) industry is also committed to responsible marketing to children with over 95 percent of confections not being advertised on children's programming.
Larry Wilson, Vice President Customer Relations, National Confectioners Association