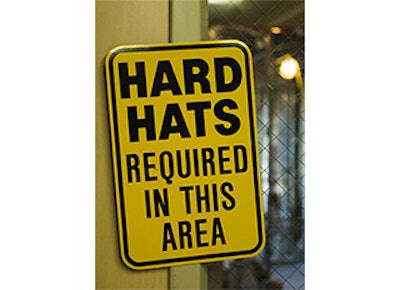 To really make an impression on current and potential customers, most contractors, manufacturers, and industrial service providers recognize the importance of differentiating themselves from the competition. There are plenty of companies out there who can get the job done, and so quality becomes a question of how: how well, how quickly, how … safely?
Respect On-Site Safety Protocol
Often, a site manager will request additional safety protocols that go above and beyond OSHA and ANSI requirements. It's important to treat those protocols with the same seriousness as the national regulations/standards. "Each environment is different, and you have to trust that the customer knows more about their plant than you do," says Chuck Thompson, Portal Service Manager at Konecranes. "Though the proprietary guidelines might be the smallest or least significant of your compliance concerns, they are also the ones that the customer will notice most, because they went to the trouble of adding them.
"For example, at the paper plant, the customer had asked that all of the contracting teams secure any area in which there was lifting or rigging with danger tape," says Thompson. "This is a relatively simple precaution, and it's one that we here at Konecranes use anyways, so we were very surprised when the customer contacted us afterwards to thank us for using the danger tape. Turns out we were one of the few contractors that actually did so for the entire duration of the project."
Listening to requests like this is a simple way to demonstrate that you value the customer's input and pay close attention to their needs.