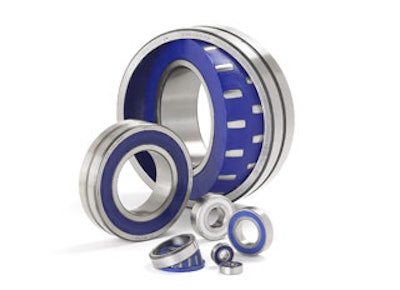 Few industrial environments can match the diverse and difficult operating conditions encountered in the food and beverage processing industries. Equipment often will be exposed to contaminants, frequent washdowns can degrade machinery and may cause lubricant leakage, and other adverse influences can combine to impact an operation's lines and productivity. In addition, continuous pressure to comply with strict health, safety and environmental regulations multiplies operating risks.
Proper management of machinery lubrication can help mitigate these conditions. When lubrication is properly managed — especially for preparation assets and areas — operations can reap rewards with increased line availability, improved efficiency, reduced maintenance costs, and enhanced food safety and integrity of end products.
Among the dedicated technologies to manage the lubrication of food and beverage processing machinery, relubrication-free bearings and advanced sealing systems have emerged as viable solutions to preserve and protect.
Applications involving washing, sorting, grading, peeling, separating and blending typically will make preparation areas and equipment wet and contaminated. Large amounts of water or other liquids can create high humidity levels, while process materials, water and caustic agents used during washdowns can inflict damage.
Bearings represent ripe targets in such harsh conditions. These critical components support shaft loads, reduce friction with rolling elements, and provide shaft location and system rigidity. Their lubricant potentially can degrade and leak in harsh conditions and when the lubricant is compromised, the performance of bearings and the machinery in which they operate will be jeopardized.
Operations can take positive steps to safeguard bearing lubricants and potentially extend service life — effectively managing lubrication — by turning to relubrication-free bearing technologies. Other benefits can be realized along the way, too.
Representative bearing technology solutions for the job include:
Prelubricated Mounted Bearing Units. These eliminate any need for regreasing over their lifetime. Bearing types in this category can be supplied for virtually any appropriate application, including heavy-duty, extreme-duty and composite versions incorporating high-quality, corrosion-resistant insert bearings (coated or stainless).

The USDA H1-approved high-quality synthetic grease pre-packed inside these bearing units is odorless, tasteless and approved for use in all food processing and beverage industry applications. The grease imparts excellent internal and external bearing protection, high aging resistance for extended lubricant life, and high load-carrying capacity, which will help to prevent premature bearing wear.


Solid Oil Bearing Technology. This consists of a polymer matrix saturated with lubricating oil that fills the internal space in a bearing and encapsulates the bearing's cage and rolling elements. Since the polymer matrix contains two- to four-times more lubricating oil than standard grease-filled bearings, relubrication becomes unnecessary.

Solid oil further minimizes ingress of contaminants, resists most chemicals without emulsifying during harsh washdowns, withstands high centrifugal forces and will not leak or otherwise contaminate the environment during production. The technology further can perform reliably despite cold operating temperature extremes and rapid temperature changes typically experienced in a variety of food and beverage processing applications. (Food-safe solid oil bearings can perform reliably in extreme temperature applications from -5º F to -49º F / -15º C to -45º C and NSF H1 approved or compliant selections are available down to -49º F / -45º C.)

Solid oil as a relubrication-free solution can be applied to virtually every bearing type (including stainless steel) with sufficient internal free space and can significantly extend bearing service life, minimize equipment downtime and reduce maintenance costs associated with the application and disposal of lubricant, replacement parts, and time-consuming labor.


"Three-Barrier Solution." This "bundle" of bearing-related technologies (suited for conveyors and other processing line equipment) has been introduced to increase bearing reliability and extend service life without the use of solid lubricants or large quantities of grease. And, as with the other examples, relubrication no longer will be required.

The technology consists of four interrelated components: Factory-sealed spherical roller bearings, optimized split pillow block housings, PosiTrac Plus™ type seals for the housing, and 60 to 80 percent grease fill inside the housing.

The bearing is lubricated, sealed and mounted inside the housing, which is then internally greased and sealed. This creates three layers ("three barriers") of protection for the bearing during operation: The integral bearing seals keep the lubricant in and contaminants out of the bearing cavity; the PosiTrac Plus seals in the housing protect against extremely fine contaminants and eliminate any need for expensive auxiliary (such as taconite) seals; and the grease packed into the housing on both sides of the sealed bearing complete the protection.
Relubrication-free bearing technologies can serve as practical solutions to manage lubrication and maximize operations to the fullest extent.
Bryan A. Ogden oversees Business Development-Food & Beverage for SKF USA Inc. Phone: 267-436-6509. Fax: 267-436-6026. email: [email protected] Website: www.skfusa.com.