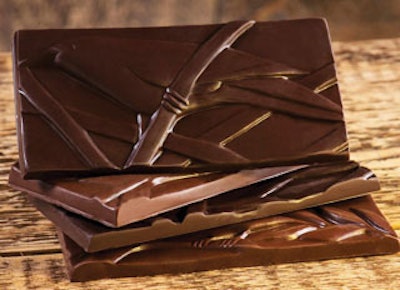 Interview with Mario Pi, Founder,The National Chocolate Show

The National Chocolate Show, the first trade show dedicated solely to chocolate in the United States, will be held in Chicago from Nov. 16 through Nov. 18. Show founder Mario Pi spoke with Food Manufacturing about the benefits the show will offer to food manufacturers and the overall chocolate industry.
Q: What can attendees expect at the show's debut?
A: Attendees can expect to interact with some of the top chocolate companies in the United States in everything from manufacturing to packaging. We wanted to create the preeminent chocolate event at the epicenter of the chocolate industry in Chicago. There was an unmet need for a trade show dedicated solely to chocolate in the United States, and we are coupling The National Chocolate Show trade show with our consumer chocolate show, Chicago Fine Chocolate Show, to create the only dual concept trade and consumer show dedicated to chocolate.
We strive to create a forum for advancement in the chocolate industry through live demonstrations and unique conference programming as well giving attendees the opportunity to have an open conversation with our exhibitors, the leaders in chocolate product, supplies, ingredients, equipment, packaging, point of purchase, displays, apparel and uniform, and more.
Q: What types of educational programming will be offered at the show?
A: With the help of the Fine Chocolate Industry Association, we've assembled an amazing group of industry leaders to speak on a number of topics important to our industry. For example, on Saturday, November 17, Blommer Chocolate Company will be talking about trends in chocolate and how food industry news translates into the chocolate and confectionary industry. Zara Khaleeli and Laura Shumow of The National Confectioners Association will talk about basic food safety for chocolate and cocoa as well as nuts and other major ingredients used in chocolate products on Friday and Sunday.
Q: What are some considerations food manufacturers should make when developing new products featuring chocolate?
A: I think food manufacturers really need to be on top of the trends and be at the forefront of where the industry is going — sometimes looking to artisan chocolatiers to see what's hot — interesting flavor profiles, art and chocolate, and thinking outside of the box. I also believe chocolate manufacturers, even the larger companies, are paying closer attention to sustainability and social responsibility. I'm seeing the buzz words of organic, natural and transparency about cocoa farmers and the production of the chocolate.
Q: What issues or challenges are top-of-mind in the chocolate industry today?
A: Through programs such as the FCIA Heirloom Cacao Preservation Initiative, industry leaders are working to preserve certain varieties of cacao trees. These sustainability efforts protect unique varieties of cacao to preserve the future of really fine chocolate. The National Confectioners Association even created a Chocolate Council to help with the education efforts so that consumers can understand about the natural origins of chocolate and build a better understanding of this unique and special food. Another important consideration to the industry is the support of cocoa farmers. Practices are being put in place to improve their lifestyle and business sustainability. I'm also seeing a focus on dedication to ingredients and the importance of natural ingredients in chocolate.
Q: What are some trends you're noticing in the chocolate industry?
A: I definitely think the trend across the board, from large chocolate companies to artisan chocolatiers, is a move to focus on fine chocolate — thinking of chocolate as a culinary medium for everything from cooking to pairings with a number of different beverages. Our experts have a great tip about identifying the trends in chocolate: Look at the hot new ingredients on salads, and you'll see those transcend to chocolate. I have seen this in everything from pomegranate to pumpkin seeds. All companies involved in the chocolate industry are pushing the envelope and creating unique flavor profiles and beautiful packaging to elevate the art of chocolate, which makes it a very exciting time to host The National Chocolate Show.
To register for The National Chocolate Show, please visit http://www.thenationalchocolateshow.com/. Tickets are $25 for the trade show. The National Chocolate Show will be held at Chicago's Navy Pier (600 East Grand Avenue) from Friday, November 16 through Sunday, November 18 from 10 a.m. – 4 p.m. Attendees must also individually register for conferences of interest (for no additional fee) at http://www.thenationalchocolateshow.com/schedule.html.