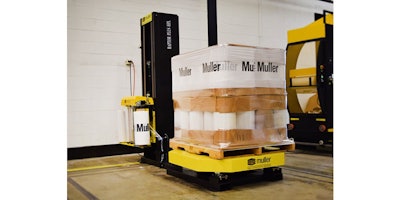 According to the Food Marketing Institute, the average number of items available in a supermarket in 2014 was more than 40,000. This abundant product availability and diversity poses both advantages and challenges. For the most part, the largest advantage is that it offers consumers more convenience and choice. That's a great thing. But greater convenience and variety for the consumer creates greater challenges for the food supply chain. To say the food supply chain is extremely complex is an understatement. With safety and quality at the top of any food manufacturer's or distributor's list, multiple solutions to everyday challenges must be acquired. At Muller, we have looked at solutions from so many different levels — from raw ingredients to processing and distribution — and we believe the possibilities are abundant.
What the Recipe Calls For
To best understand the food supply chain, let's start from the beginning. From milling grain that will eventually become flour, to carrots picked from the farm, every recipe requires raw ingredients. And each ingredient requires special handling before it makes it to the store or food processing plant.
This is where load containment comes in. Let's take flour as an example. As a general rule, flour is mostly bagged, and those bags are heavy and cumbersome. When palletizing them for distribution, one must consider the size, weight and packaging material to ensure safe transport to the store or food processing plant. For instance, poly bags have a tendency to slip on each other when stacked. Though often secured with stretch film, the constant movement and weight of the bags can force the film to stretch, and the load can topple over. To avoid film stretching and excess waste, some manufacturers have opted to use hot melt. The adhesive is placed between layers of product — essentially gluing the bags to each other. While this option can be advantageous over stretch wrap in the case of poly bags, it presents several challenges for other packaging materials. For example, paper-based bags risk tearing when the product is pulled apart. And no matter what type of packaging is used, one disadvantage of adhesive is that it leaves residue behind on the packaging surface, which not only reduces brand integrity, but creates mess and creates the potential for food contamination both from the residue left behind as well as the heat source used to apply it.
One solution that has proved ideal in the milling and baking industry where bags are used most often, is water-based cohesive. It is stronger than stretch wrap alone and is cold-applied, making it safer than hot melt. It does not leave a sticky residue or harm packaging surfaces when unstacking/popping product apart. Water-based cohesive further allow for heavy reductions in traditional packaging — stretch film, slip sheets, dunnage bags, corner boards and more can be virtually eliminated while maintaining proper load security. This allows for a leaner supply chain, reduces the number of employees needed to stabilize a load and reduces costs associated with excess materials.
In contrast, produce takes a different journey, and growers are responsible for ensuring this key ingredient makes it through the supply chain. Since produce is typically transported in corrugated boxes, it leaves it vulnerable. For example, rain or any type of moisture on the boxes can lead to mold growth and other bacteria that can spread to the produce. Condensation is a major cause of damaged box loads. In fact, the same can be said for the flour loads above — especially paper bag loads that will get destroyed if wet.
Stretch hood technology is ideal in this situation. Particularly with "10-sided" (5 outside surfaces + 5 inside surfaces) waterproof protection, growers can ensure products remain dry regardless of storage conditions. However it doesn't need to rain for moisture to form inside the load. Covering the product in plastic film on hot days can produce its own condensation build-up inside. Multi-layer film technology effectively manages sunlight and creates an impermeable barrier to liquids. Aside from eliminating condensation and unwanted elements from entering the bag, the technology also maintains barcode readability and prevents tears or punctures as bags are stretched over the load.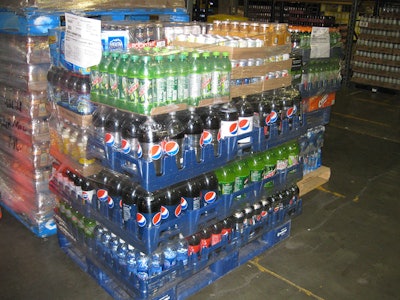 Set to Make
Once the raw ingredient has traveled safely to the food processor, it's here that the majority of food bought is manufactured and packed. However, this is also where things get more complicated. As an example, there is a big difference between how macaroni and cheese versus ice cream is made. In addition, the pallet security demands for each vary greatly.
With millions of mac and cheese boxes packed each day, tackling high volumes requires the work from more automated load containment systems. Rotary ring technology is a common solution in high throughput environments like this. In addition, the technology can provide more than 200 different wrap patterns and can start and stop anywhere on the load. The ability to pre-program wrap patterns also means various pallets can be wrapped without hesitation or operator interface. For lighter loads, like mac and cheese boxes, this advantage also enables users to add film in weak or vulnerable spots such as the middle or the top.
Dairy plants are also unique in their needs. Most plants are packed tightly with product rushing through at high speeds. The sensitivity of the product adds further complications to the supply chain. They must keep up with extremely high demands as millions of gallons of milk are sold daily in the United States alone. Ensuring products are quickly processed, packaged and out the door is essential to its shelf life. "Getting things done before the ice cream melts" is no euphemism in the dairy industry. With the average dairy plant wrapping anywhere from 60-120 loads per hour, the ideal solution is automatic rotary ring stretch wrapping equipment.
This technology has been proven successful in an environment where speed, reliability as well as harsh environments are top concerns. Any machine downtime in the stretch wrapping zone can cause myriad problems upstream and greatly affect product shelf life.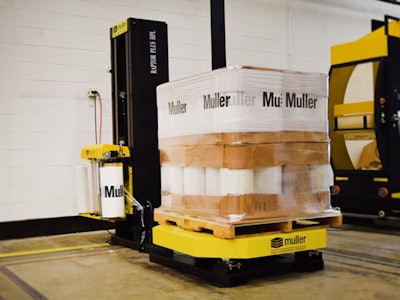 Store "Brought"
Before any of the above items are available at the local grocery store, each typically makes one more stop at a distribution center. Grocery distributors are responsible for providing your local store with the variety demanded by its patrons and ensuring product arrives in immaculate condition.
According to the USDA, the United States throws away one-third of all the food it produces (133 billion pounds of food); and grocery stores are responsible for tossing 10 percent of that food. Grocery stores typically throw food away because it may be expired or damaged. Often, product packaging gets damaged during shipping, leading supermarkets to toss products even though the food hasn't been compromised. The stores assume, perhaps rightly, that no consumer is going to buy a dented box of cornflakes if a pristine one is right next to it.
Of course, damage may be done once the food product arrives at its destination and it is virtually impossible to expect all products to make it unscathed. The food distributor however, has the most arduous task of delivering the products without damage and there are many places during the distribution process where products have the opportunity to be damaged.
Let's illustrate this process: first, the distributor receives pallets filled with items from one manufacturer (example: mac and cheese boxes). The distributor then breaks down the load so that the boxes can be separated for each store. As mentioned before, the store provides great product diversity and the distributor will create new mixed product loads to meet varying demands. This mixed load, also known as B and C type loads, will have jagged edges/odd shapes because the stacked products are not necessarily from the same manufacturer or have similar packaging dimensions. This fact leaves stretch film vulnerable to tears. In addition, because product is pulled from multiple locations throughout the warehouse, it's difficult to assign a single wrap zone. Workers must be able to move throughout the plant and adjust for inventory levels. The smaller available footprint and nimble distribution practice calls for an equally flexible solution.
To this end, a robotic pallet wrapper is an excellent solution. The speed, convenience and wrap quality of such machines make it an ideal choice to ensure proper product delivery and pallet security. Specifically, its increased product protection and wrapping consistency improves employee safety, lessens waste and significantly saves time and cost over hand-wrapping.
The next time you walk to your grocery store, think about the journey each item available has taken. Without proper load security along the way, most of those products would not have made it so far.
Sources:
Food Marketing Institute http://www.fmi.org/research-resources/supermarket-facts#sthash.U2nhbl7q.dpufThe
http://www.ers.usda.gov/publications/eib-economic-information-bulletin/eib121.aspx
http://www.businessinsider.com/why-grocery-stores-throw-out-so-much-food-2014-10