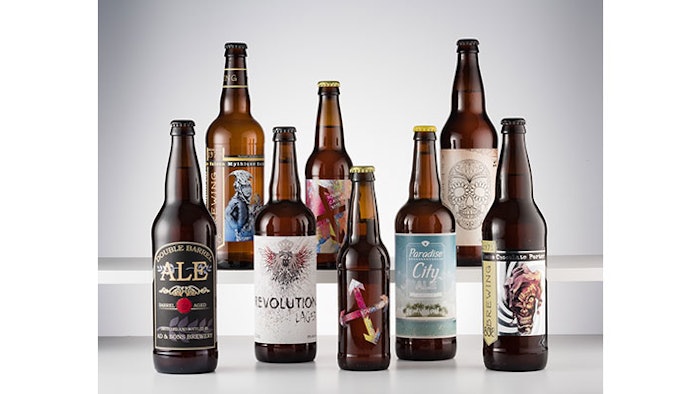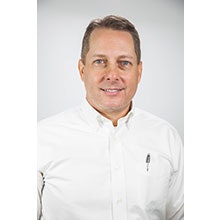 Craft beer continues to grow at tremendous rates, primarily due to a shifting consumer demand from a new breed of beer buyer – millennials.
Millennials are a very particular beer customer. They want their beer brewed locally. They want variety. And they want quality. All you need to do to realize the force craft beer has become is to walk into the beer aisle of any grocery or convenience store. You'll find a selection that was unimaginable just a few years ago.
According to the Brewer's Association, craft beer was a $19.6 billion product niche in 2014, accounting for 19 percent of beer sales in the U.S. That niche grew another 18 percent that year – 36 times the overall percentage growth of the beer industry overall.
There were fewer than 300 craft brewers in the U.S. in 1990; there are now nearly 4,000. That's more than any since the late 19th century, when local brewing was the foundation of the beer segment.
So many beers – so many choices
Millennials walk through the beer aisle expecting a lot of options, and they're willing to try something new rather than stick to one brand. Certainly word-of-mouth about flavor and quality plays a part with some of them. But most often, an attractive label in the retail establishment is the primary driver for a sale.
Two studies shed more light on the differences labels can make.
A 2010 study by MarketForce showed that consumers are more likely to buy a product that "catches their eye" on a store shelf. The factor outweighs promotions, coupons, product recommendations and ads.
Given this, along with the increasingly crowded retail shelves and evolving consumer expectations, craft brewers are faced with both a challenge and an opportunity in how to make their brew stand out, get noticed and ultimately be purchased.
Successful craft brewers are realizing that what's on the bottle can be just as important as what is in the bottle. It's an opportunity to tell their story, enabling them to build an identity. And the focus on labels enables graphic designers to expand their artistic design talents through decorative color, imagery, label shapes and even textures.
Decorative focus has an impact. A 2015 eye tracking study conducted by Package InSight at Clemson University's CUshop™ Consumer Experience Laboratory and Avery Dennison proved labels attract consumer attention and drive purchase intent.
The "eyes" have it
The quantitative study examined the shelf impact of craft beer labels when products were positioned in a simulated retail store environment. The facility provided a representative shopping setting with 12-foot shopping aisles and frozen food, product and refrigerated areas. A typical planogram from a local beer distributor was used for the two-day study.
Products were selected from a list by 193 "shoppers" (109 female, 84 male) who wore calibrated, eye tracking glasses. Their eye movements were recorded to provide insight as to why individuals selected certain products.
More than 180 of the participants had purchased craft beer in a store sometime during the three-month period prior to the study. Approximately 40 percent had purchased craft beer weekly or every two weeks. Participants ranged in age from under 21 to over 65; 55 percent were between 21 and 39.
The lab tested a variety of facestocks such as pressure-sensitive labels were used – paper, matte film, white gloss film metallic, wood veneer and clear-on-clear printed. Each participant viewed one of the six labels on a shelf with nine other bombers (22-ounce bottles). The six labels were rotated so that 30 participants viewed the shelf set with paper labels, another 30 viewed the shelf set with matte film, and so on. All packages were assigned numbers. Participants recorded the number that correlated with the beer selected.
Seeing is believing – and selling
Eye movement metrics showed why shoppers chose specific products. A heat map drawn from the entire participant pool confirmed study participants' aggregate total fixation duration (TFD). Green indicates that participants observed the area. Yellow indicated longer viewing, and red areas were viewed the longest. (Image 1)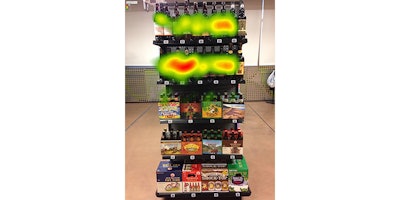 A scan path illustrated a single participant's eye movements when scanning the planogram. The path is combined by the TFD measurement (larger circles) to create a visual representation of where a participant looked and how long the person spent viewing certain areas. (Image 2)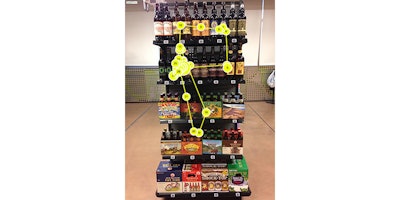 Time to First Fixation – The graph shows the time, in seconds, from when the craft beer product first entered a participant's field of vision until the person fixated upon it. The lower the number, the better the package performance. White gloss film and wood veneer performed best, followed closely by metallized film. (Chart 1)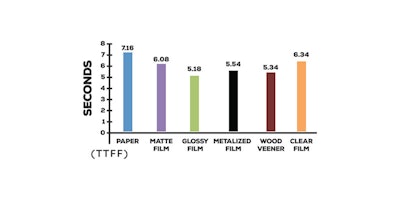 Total Fixation Duration – Fixation duration is one of the most important consumer study metrics. It involves the time (in seconds) a participant fixates on a specific item. The higher the number, the better the package performance. Study participants viewed the clear-on-clear label over 20 percent longer than the others. The study showed a strong correlation between fixation duration and product selection – increased fixation enhanced the likelihood of purchase. (Chart 2)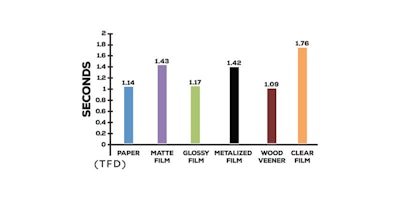 Fixation Count -- The study also looked at the number of times each participant scanned a specific product. The higher the number, the better the packaging performed. The study indicated the number of times a product was viewed positively correlated with purchase intent. (Chart 3)
Participants looked at glossy film more frequently, but for a shorter duration.
Sixty-two percent of participants said the metalized film label caught their attention compared to the others.
Forty-six percent perceived the metalized labeled product as the most expensive, followed by wood veneer and clear film.
The paper labeled product appeared the least expensive to 40 percent.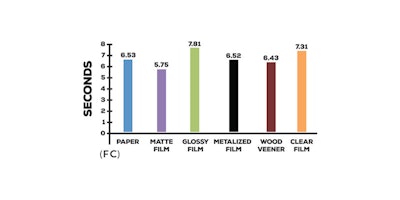 Impact on purchase
After the eye-tracking portion, participants entered a debriefing area where they answered a post-experiment questionnaire that gathered qualitative data. Participants indicated they preferred the wood label, even though their eyes – during the quantitative evaluation – indicated they gravitated toward the metallized and clear labels.
Participants were asked how important the label was for their purchasing decision and why:
"It's very important. Unless it's a brand that I've had before and I know what I'm getting, I won't purchase another brand unless the packaging attracts me."
"Label can be the aesthetic quality that engages you to pick up or interact with a product."
"Very important. I know I'm guilty of 'judging a book by its cover.' I either buy beer I've had and know is good or I try something because it intrigues me."
"Presentation is always important when trying new things."
Shelf impact is a major concern for all brand owners, but especially in a growing and crowded industry like craft beer. This study showcased the head-turning impact of pressure-sensitive in helping craft beer brands stand out.
Growlers and howlers and kegs – oh my!
While it's clear the label plays an important role in the craft beer bottle, labels are everywhere within the industry. There is a great variety of craft beer label applications:
12 ounce bottles
16 ounce bottles
Pint cans (one of the fastest-growing formats)
22-ounce bottles
24-ounce "tall-boy" cans
32-ounce "howler" bottles or "crowler" cans
64-ounce glass growlers
Keg wraps
Pony keg wraps
In addition, labeling opportunities exist for tap handles, shelf-talkers, promotional items and more.
That said, each business has smaller overall inventories compared to larger brewers, which means smaller label print runs. This makes the industry attractive to converters with digital presses, who can handle these smaller runs.
Failed brewers often burdened themselves with costly, glue-applied labeling overhead. Savvy brewers understand that more flexible and cost-effective pressure-sensitive label choices exist. In fact, pressure-sensitive labels are easier to apply and offer quicker change overs. That's a definite advantage for the brewer bottling multiple beers throughout the year. They stand up and look better in moist environments like ice chests. And they generate less waste than glue-applied. Working with a team that includes a reliable labeling and packaging supplier, technology-driven converter and a cutting edge graphic designer, a craft brewer can keep their sales from going flat.
That same strategy can work as well for a large-scale brewer that may use glue-applied labels for their primary product line; customized pressure-sensitive labels can drive sales for these brewers' seasonal offerings.
It's a fact – labels matter. And because craft brewers are in a unique industry niche, they have the opportunity to tell compelling stories about their breweries, recipes, and processes as they bring their best to consumers. Eye-catching labels, branding and graphics help craft brewers tell their story and connect with consumers while they influence purchase decisions.