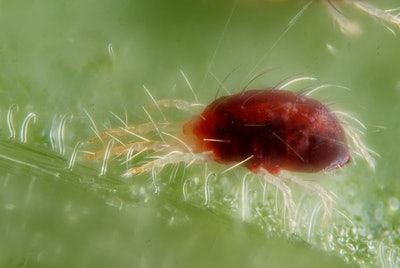 Tetranychus urticae, also known as the red spider mite, loves to feast on flowers, and especially roses. But this dietary preference makes it also the flower farmer's favorite enemy. Although many farmers are using pesticides to kill the mites, the
Gorge Farm in Kenya will soon start deploying a homegrown weapon of choice: bugs that eat the spider mite for lunch. The good bugs will breed inside a nearby greenhouse that will be kept cozy with excess heat from a unique new power plant serving the farm. "We're rethinking the whole agriculture-energy nexus," says Mike Mason, chairman of Tropical Power, the company that built the plant. "Gorge Farm's system is the first step in that process."
The biological pest control is not the only unusual feature of the power plant, whose beating heart is made from two GE Jenbacher gas engines. (They came from Clarke Energy, the global distributor for the Jenbachers.) The engine also burn biogas made from the farm's agricultural waste and helps the farm manufacture fertilizer from dead plant matter. In a country with a patchy grid and frequent power outages, the Jenbachers will supply the 1,730-acre farm with enough reliable, off-grid power to ship 50 tons of flowers and vegetables to European markets every night.
Gorge Farm is located outside the town of Naivasha, some 60 miles northwest of Nairobi. When the power plant comes on-line in the next few weeks, its output will likely exceed the farm's needs, make the farm fully energy-independent, and provide new revenues from selling surplus electricity and hot water to the grid and its neighbors.
At the core of the sustainable energy project, the largest of its kind in Sub-Saharan Africa, is a huge metal gut called an anaerobic digester. It will consume the bulk of the 45,000 tons of plant material and other agricultural waste the farm produces every year. Inside this industrial belly, bacteria and archaea will convert the waste into methane, which will then power two of Jenbacher J420 gas engines. They are specially equipped to burn biogas and produce together around 2.4 megawatts of electricity.
That amount of power is about double what the farm needs. It will sell excess power (approximately 1.2 megawatts) back into the national electric grid to help stabilize it and power up to 6,000 Kenyan homes. There are other benefits as well. Along with methane, the anaerobic digester will convert plant matter into high quality natural liquid and solid fertilizers, which help displace synthetic options.
The gas engines can also recover waste heat generated by the burning of the biogas. The heat will produce a stream of hot water, a valuable commodity in the farm's location some 2,000 feet above sea level. Tropical Power's Mason says the farm will pipe some of the hot water to a neighboring farm, where it will heat greenhouses growing Amblyseius californicus, a predatory mite used as a biological control against the red red spider mite.
"This power system brings a new dimension to agriculture because it doesn't just produce food," Mason says. "It also produces electricity, heat, fertilizer, compost and, indirectly, pest control for the crops growing in the field. All of these benefits are coming off the land in a closed loop." George Njenga, business leader for GE's Distributed Power in Sub Sahara Africa, sees the impact of Tropical Power's plant at the Gorge Farm reach far beyond farming. "It helps to power local businesses, hospitals and the mobile phone network," he says. "It can make a real difference in people's lives."