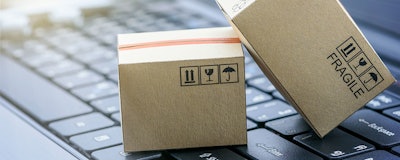 An accelerating number of manufacturers, suppliers and wholesalers, attracted by the scale and efficiency offered by ecommerce, are opening up online storefronts. According to a recent study by Forrester Research, more than half of B2B sellers saw increases in both the size and profitability of their average online orders in 2017 compared to the previous year. In fact, Forrester found that the average order value of an online B2B purchase was $1,816 in 2017, far outweighing the $148 average order size of consumer ecommerce retailers.
But traditional B2B customers are still accustomed to phoning in, using faxes, or even emailing to place their orders. Building a successful B2B ecommerce business means attracting buyers that are already online, but it also requires converting these legacy buyers into online shoppers. Even if you have the best B2B ecommerce site in the world, failing to transition your existing customers to this new online environment will keep you from reaping the full benefits of going online. The effort to turn offline buyers into online shoppers should be a priority task for manufacturers looking to boost their ecommerce sales in 2018.
Education
Successfully convincing longtime customers to move online begins with dedicating human and marketing resources to the education and learning process. Marketing teams need to teach customers about the benefits of ecommerce and sometimes even help them take their first steps — a everything from setting up accounts to coaching them about the best ways to find what they need online.
It helps to identify clients who specifically need "ecommerce lessons." Start by combing through both the digital and print records of your past customer orders. Depending on your business's sales cycles, you may need to collect anywhere from one to five years of records. Those who haven't yet opened online accounts but who have placed multiple orders, or those who opened accounts but never purchased anything online, are usually the customers that you need to contact.
Whether you reach out to customers via email or phone calls, your communications should emphasize ways that online ordering will make buyers' jobs easier. Some key points to emphasize are the availability of 24/7 ordering, streamlined online request-for-quote processes, and easy order tracking. You should offer step-by-step instructions and perhaps a link to a quick video showing how easy it is to shop online. Remember that your customers are busy, so don't expect them to figure out the online workflows themselves.
Reassurance
The greatest barrier to your success in transitioning existing customers will be the universal reluctance to change. People have a tendency to stay with a system that is familiar, even when a new approach could be beneficial. B2B commerce is built on trust and relationships that are often forged over long periods of time. That's why some of your customers might be hesitant about not talking to a live person when something goes wrong. Or they may be skeptical that they will continue to receive standard volume discounts should the ecommerce system fail to recognize their years of purchasing. It's important to reassure your newer online customers that not only will they continue to be valued, they will also benefit from improved product selection, better prices, and more efficient customer service.
Despite your best efforts, some clients may still gravitate toward traditional offline channels to place orders. One strategy is for sales reps to continue to take orders by phone or fax, but to set up online accounts for customers at the same time. It's a great opportunity to assure the customer that the personal relationship will remain intact. Sales reps can walk their customers through the process online together, then follow up via email or phone with detailed information about how to manage online accounts, encouraging customers to make future orders through your ecommerce site.
Incentives
Offering customers incentives for their first online purchases can be a great way to encourage ecommerce adoption. Incentives can take many different forms, from premium-grade marketing materials to brand swag, discounted freight or extended payment terms for first orders. Amazon Business, for example, offers a discount program for bulk purchases of gift cards that can be used as incentives. Once a customer makes an initial purchase and experiences the benefits of ecommerce, adoption is likely to occur more quickly. If you have an existing loyalty program, definitely allow your customers to transfer their accumulated offline points into their online accounts.
Your sales force is vital when it comes to converting offline customers into online buyers. So it is also important to provide incentives for your frontline sales reps to become ecommerce advocates. For sales or customer service reps who effectively help clients set up accounts and place initial online orders, recognize them at the start of sales meetings or offer special perks for high producers. Other incentives can be monetary bonuses, gift cards or additional time off.
It's not easy to change the behavior of customers who are hesitant to adopt more modern technology, but remember that your time and investment will pay off eventually with higher average order values and more cost-effective sales. When customers begin to rely on a business's website, they are able to place and track orders whenever and wherever they want. Sales representatives can work more efficiently and focus on the highest value strategic accounts. And your business can provide better and more personalized customer service by capturing rich data and insights.
Yoav Kutner is the CEO and co-founder of Oro, Inc.