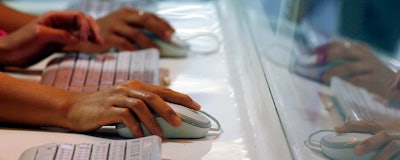 Today's consumer can go online or open an app on their mobile device, immediately purchase an item, and get it delivered fast. Too often, the B2B buying experience stands in stark contrast to these simple mobile and online B2C shopping experiences. Many manufacturers and distributors and their customers are still dealing with pen and paper, phones and faxes, overly complex legacy technology and other manual methods to create, submit and process orders.
Driven by their experiences as consumers, B2B buyers' personal shopping habits are transforming how they operate professionally. According to Accenture, 75 percent of B2B buyers say they would buy again from a supplier with an easy-to-use website. And Forrester Research has found that 52 percent of B2B buyers are using their smartphones to search for products, browse catalogs and read reviews.
For manufacturers and distributors, meeting the evolving needs of their customers requires a new approach. B2B eCommerce solutions are designed to handle the complex relationships and processes inherent in B2B while delivering modern, simple and intuitive user experiences on par with the most popular eCommerce sites and mobile commerce apps. Those suppliers adopting these solutions and making it easy for customers to instantly order the right products anywhere, anytime are gaining a strategic edge over their competitors.
Convenient, Fast Ordering Increases Order Frequency
B2B eCommerce solutions include websites and native mobile apps running on consumer devices like the iPad or iPhone. These intuitive solutions have familiar user interfaces, search tools and high-resolution digital product catalogs, so products can be easily searched or scanned and added to the order. Customers can also quickly start a new order based on their order history or create a reusable template with frequently purchased items and quantities.
Using these solutions, buyers can quickly build a new order from their desk on a computer or by using a mobile device from a store aisle or stockroom. They can then immediately submit that order for processing any time they like, no longer at the mercy of their supplier's hours of operation to place phone calls or make sure a fax was received. By making it faster and more convenient to purchase, manufacturers and distributors are seeing their customers place more frequent reorders, ensuring their shelves are always fully stocked.
Easy Product Discovery and Great Content Drives Order Volume
Digital catalogs with detailed product specs included as part of web and mobile B2B eCommerce solutions provide buyers with a single and easily navigated source for a manufacturer or distributor's products. These catalogs should include only the range of products the buyer is eligible to purchase, along with their specific pricing and inventory levels and restock dates. Providing personalized catalogs that make it easy for customers to explore and discover new products helps suppliers expand organically within their existing customer base.
B2B eCommerce also presents enormous opportunities for manufacturers and distributors to communicate directly with their customers. Companies are now able to drive traffic to eCommerce portals and dedicated mobile apps through email marketing and other forms of web engagement, including notifications about new products, promotions and recommended orders. Beyond just driving general awareness, buyers can take immediate action –– creating and submitting orders. Suppliers can also provide expanded brand and product information, merchandising guidelines and promotional videos. With a greater level of knowledge and expertise about a supplier's products, customers are more likely to sell more and lead with their brands when talking to customers.
Expanded Reach Adds Customers
The Internet has no geographic limitations. Manufacturers and distributors that deploy B2B eCommerce and mobile commerce solutions can sell to customers that may have once been beyond their sales teams' reach. In addition, suppliers can effectively serve smaller customers that may have been too expensive to serve via in-person channels. By providing them with a straightforward, self-service experience, manufacturers and distributors are better positioned to profitably capture the long-tail of their customer base. Finally, deploying a new B2B eCommerce portal and/or mobile app gives companies a new opportunity to reengage with inactive customers.
Eliminating Order Management Inefficiencies Accelerates Cash Flow
Once an order is written, B2B eCommerce solutions provide the ability to sync that order to the manufacturer or distributor's back office systems. Digitizing order writing and automating the submission process offers suppliers a seamless, error-free process that removes the delays and fulfillment errors that occur when dependent on paper order forms and data entry. Orders can then be sent to the warehouse and packed for shipment the same day and delivered the next.
Providing Digital Commerce Solutions to Sales Reps Improves Service
It's important for manufacturers and distributors to look at the development of eCommerce as building on their sales teams, rather than eliminating them. Providing sales reps with mobile order writing solutions that also include B2C-like user experiences makes them more efficient and effective. They have the product and customer information they need at their fingertips for strategic conversations and a seamless digital format for writing and submitting orders.
By delivering multiple direct ordering options for buyers and providing field sales teams with mobile solutions that make it faster to write and submit orders, the sales rep's job is no longer focused on transactional processes. Instead, reps are becoming trusted advisors who can provide insights on assortment planning, inventory depth, reordering techniques and lean supply chain strategies. Reps can talk with buyers about how to increase margin, phase purchases and understand the competitive landscape, and they can help them differentiate themselves in a world where competition from online channels and other brick and mortar players is constantly increasing. Most importantly, sales reps can differentiate themselves and their products.
The most successful manufacturers and distributors will be those who respond to the B2B eCommerce opportunity in a thoughtful way. Delivering an online experience with personalized and tailored information that frees customers to quickly learn about and order products at their convenience helps manufacturers and distributors provide a level of service that is a more long-term differentiator than product or price. By making it easier to do business with them both in-person and online, these suppliers are growing their businesses and creating more loyal buyers.
Mike Elmgreen is CMO of Handshake.