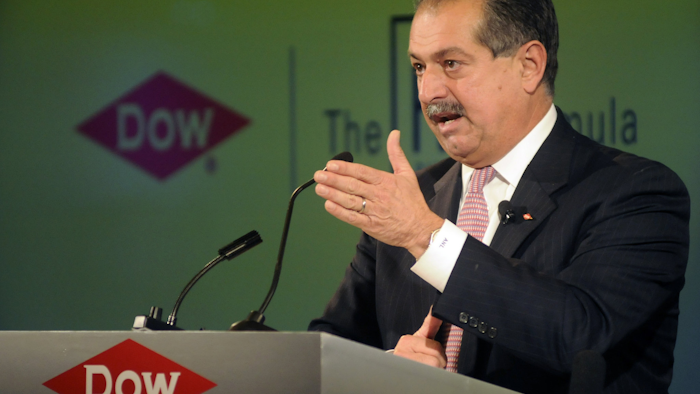 Dow Chemical's CEO, Andrew Liveris, has announced plans to step down from his position by June 2017. He'll retire following the company's $130 billion merger with DuPont, which is slated to be finalized later this year.
Liveris, who took the helm at Dow in 2004, made the announcement during a call with investors saying, "... My own planned transition out of the company, which will occur when we are set up to be spun off, but no later than the end of Q2 2017."
DuPont's CEO, Edward Breen, will head the newly formed DowDuPont after the merger and Liveris will serve as executive chairman. Then, as DowDuPont breaks into three smaller companies, Liveris said he'd be working closely with Jim Fitterling, Dow's new COO, to help guide the transition.
While Liveris, 61, didn't go into details about his decision to retire, an activist investor from Third Point, who is one of the company's biggest shareholders, has been reportedly pressuring the board to remove Liveris.
Liveris' tenure at Dow hasn't been without controversy. In particular, he has been criticized last year for overspending on certain "business" expenses, such as a $218,938 Super Bowl party that was reportedly only for friends and family (with no customers present).
But it looks like Liveris could be leaving on a high note in terms of profits. This week, Dow announced earnings figures showing that the company's fourth-quarter net income shot way up from $734 million in 2014 to $3.53 billion, partially thanks to low oil prices.
Liveris also told investors that he is primed for a "big year" for Dow that will not only include the merger with DuPont, but will also be when the company completes its purchase of the 50 percent of the Dow Corning silicone joint venture it doesn't own.