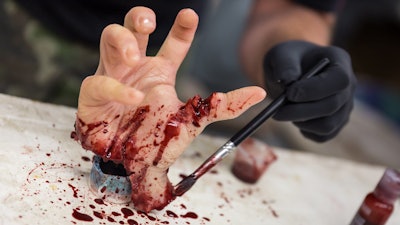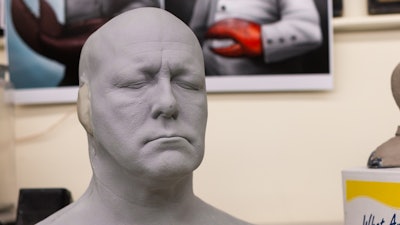 What do zombie masks, Thor's hammer and alien costumes have in common? Cool chemistry, of course. Specifically, these are the kinds of products that get created in the labs of Smooth-On, a chemical company with ties to the big screen that have recently put it in the limelight.
Based in Macungie, Penn. about an hour north of Philadelphia, Smooth-On makes materials sold in 700 different markets including rubbers, plastics, coatings, putty and adhesives, which it has been manufacturing since 1895. Smooth-On has also become a leading manufacturer of materials used to make special effects in Hollywood and Pinewood Studios in the U.K.
You won't see Smooth-On's name in the credits, but its products are in there — from Robert Downey Jr.'s "Iron Man" suit, to props in "Harry Potter," to the bloody face makeup used in "The Walking Dead," (made from a product called Skin Tite, that feels like natural skin).
One notable product is the company's Smash Plastic urethane, which is used to make fake glass. The in-demand product can be broken over an actor's head or in a window an actor break through without producing the sharp edges that cause injuries.  
Just like many cutting-edge chemical companies, new products made at Smooth-On are often born out of a need to solve a new problem with innovative materials.
"Customers will come to us saying, 'I want a material that will be very soft, stretchy,'" Clay Western, co-owner of Smooth-On recently told local media. "'I'm making a monster; I'm making BB-8 from 'Star Wars.'"
Last year the company moved into a 370,000-square foot facility that boasts an ornate Rennassaince-themed entry way, manufacturing facility, chemistry labs and its subsidiary retail store called Reynolds Advanced Materials (another eight similar stores are scattered around the country). All told, the company employs around 230 people.
Though Smooth-On doesn't publish its sales numbers, if its recent investments are any indication, times are going well for the company. The move into the new facility cost the company $3.5 million for the 30-acre property and Smooth-On has invested $20 million to retrofit the space.
The new digs have also allowed the company to expand its services including an 18,000-square foot classroom dedicated to training customers on how to use their materials. Every month, up to 50 people from around the world pile into the company's classroom to make everything from signs and masks to whimsical art.
And the company's store sells plenty of materials to help you dream up a wide range of projects. Some of those products are gory, like the Ultimate Blood Kit, a special effects set with ultra-realistic blood you can use to freak out your friends or even use for medical training. There's the urethane rubber with hundreds of art and industrial applications. You can even use the company's lifecasting materials, made from silicone rubber, to create a molded replica of your face or body.
And whether you knew it or not, you've likely already seen many of those products in action.
Check out a local media report of Smooth-On for a peek inside the company's manufacturing facility and store.