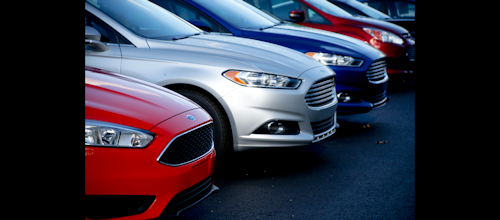 The nation's largest automakers mostly reported slower March sales just days after a report indicated that dealer inventories are at their highest levels in more than a decade.
Among the top six U.S. automakers — which comprised 80 percent of the U.S. auto market — only General Motors and Nissan reported sales gains last month compared to March 2016.
Honda and Toyota declined by nearly 1 percent and 2 percent, while domestic rivals Ford and Fiat Chrysler fell by 7 percent and 5 percent, respectively.
Overall vehicle sales in March declined by 1.6 percent compared to the same month last year, according to the Associated Press.
Those numbers were issued in the wake of a forecast from Edmunds.com that said vehicle inventories reached their highest point since 2004.
Dealerships stocked up on cars to take advantage of near-record sales in recent months, but a decline in sales in coming months could force them to offer discounts to clear their lots. That, in turn, could hinder automaker profits.
High inventories levels are currently impacting smaller cars, which suffered as sales of trucks and SUVs boomed. Although automakers were happy to see that trend -- larger vehicles also provide larger profit margins — Edmunds analysts said that inventories were beginning to increase in those segments as well.
The website projected that sales would be flat in the first quarter of the year and that sales would likely fail to match the record pace of 2016 for the full calendar year.
"The industry was at record levels, and now they're starting to come off of that," said Edmunds executive director of industry analysis Jessica Caldwell, according to Fox Business. "It makes it really hard to plan."