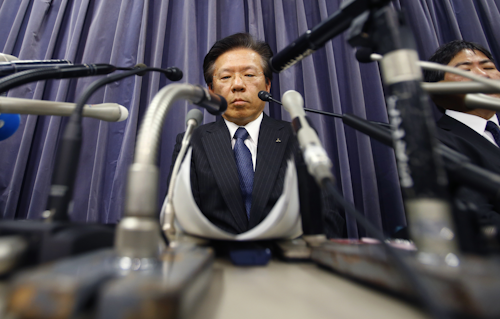 Mitsubishi Motors Corp. has proposed a leave allowance above the legal minimum this month for workers at a western Japan factory who have been told to stay at home amid the automaker's fuel economy rigging scandal, sources close to the matter said Tuesday.
Mitsubishi Motors has halted production at its Mizushima plant in Okayama Prefecture since the manipulation of fuel economy data for four minicar models was revealed on April 20.
Under the Labor Standards Law, a company has to pay leave allowances equivalent to at least 60 percent of average wages in the event that workers are forced to take leave due to situations caused by the company.
But the Japanese carmaker has proposed paying more than 80 percent of average wages as the cause of the plant suspension was its misconduct in fuel efficiency tests, according to the sources.
Among 3,600 workers at the Mizushima plant, 1,300 involved in the production of minicars, which have engines no larger than 660 cc, have been furloughed. The automaker is aiming to retain workers by paying the higher allowances.
Both the labor and management sides will accelerate their negotiations to reach an agreement on the allowance by the end of May, the sources said.
Mitsubishi Motors has been trying to identify those responsible for the data manipulation affecting a total of 625,000 minivehicles produced since June 2013, including vehicles supplied to Nissan Motor Co.
But it will likely take at least three months before a panel of outside experts concludes its investigation into the scandal.
The company will provide further explanations about the scandal to the Ministry of Land, Infrastructure, Transport and Tourism on Wednesday.