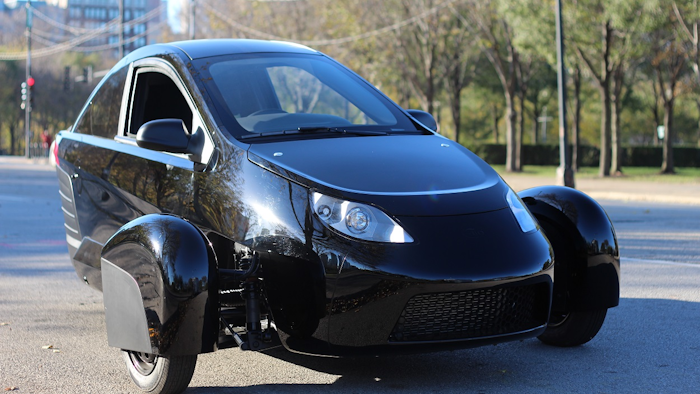 The three-wheeled car startup Elio Motors has hit some rough patches lately, missing the initial production deadline for the cars which customers placed from $100 to $1,000 down to reserve. Now online shop Overstock.com might have showed Elio to a smoother road with a $2.5 million purchase of newly issued shares in Elio's common stock.
Overstock says that the investment will help Elio pay "outstanding debt and accounts payable," according to The Verge. Overstock founder and CEO Patrick Byrne was charmed by the little gas-powered vehicle, calling it "a win for America" and saying he wanted to make one his personal car "for at least two-thirds of the days I drive."
"Given its breakthrough pricing and ultra-low delivery cost, I anticipate that Overstock Cars and even Overstock Retail will play a role in bringing this product to the public," Byrne said in a press release.
The company had a deal with a factory in Shreveport, Louisiana, for production, and says on their website that production will create 1,500 jobs. However, Jalopnik reported in 2017 that Elio Motors had clashed with a town still reeling from the loss of a GM factory.
Elio Motors' cars caught the public eye with their quirky design and efficiency. The two-seat vehicle boasts 84 MPG, a targeted base price of $7,450, and a top speed of over 100 MPH. However, scaling up proved difficult, and the company didn't raise as much money as it expected. Production was supposed to begin in 2014.
It's possible that Byrne's support will get Elio – and the Shreveport factory – back on track. But their strategizing is beginning to look like a desperate bid for something that will work. Elio Motors has also made an attempt to get in on the cryptocurrency trend by offering "security token offerings" to investors, using something called ElloCoins. And for now, the people who put down deposits are still waiting for their mini-cars.