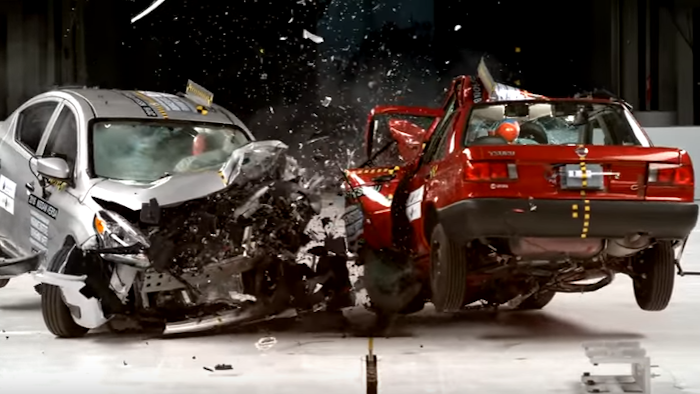 Nissan last week announced plans to end production of an iconic Mexican-made sedan one day before a trio of safety groups planned to demonstrate its spotty safety record during a crash test.

The New Car Assessment Program, the Latin NCAP and the Insurance Institute for Highway Safety, however, went forward with the test  — and said the results showed why such "Zero Star" vehicles should be eliminated.

The groups crashed a Nissan Tsuru, a small sedan produced in Mexico for more than three decades, into a Nissan Versa, a comparable car made for the U.S. market, at a combined closing speed of 80 miles per hour.
The Versa received a "Five Star" safety rating, the highest available, from the IIHS, while the Tsuru was given a "Zero Star" mark.

Video of the test showed that the Versa's windshield and cabin remained largely intact despite significant damage to the front of the car; the Tsuru, on the other hand, was essentially crumpled in half.

The Latin NCAP said that the Tsuru's main structures all failed and that a driver likely would have sustained life-threatening injuries or died.

The groups originally announced the test to call on nations across Latin America to adopt stronger auto safety standards. They noted that the Tsuru is frequently sold without airbags and contributed to thousands of deaths in Mexico in recent years.

"Our first ever Car to Car test clearly shows the importance of minimum crash test regulations," said NCAP Secretary General David Ward. "Mexico doesn't yet apply them and the U.S. has had them for decades."
Nissan did not elaborate on its decision to end production of the Tsuru, but analysts suggested that increasing safety and emissions standards compromised the economic advantages of the Tsuru, which was sold only in Mexico and Peru and became famously beloved among Mexico's cab drivers.

The NCAP, however, argued that Nissan made the decision in response to the auto safety campaign.

"It has taken Nissan too long to recognize that selling sub-standard cars is unacceptable," Ward said.