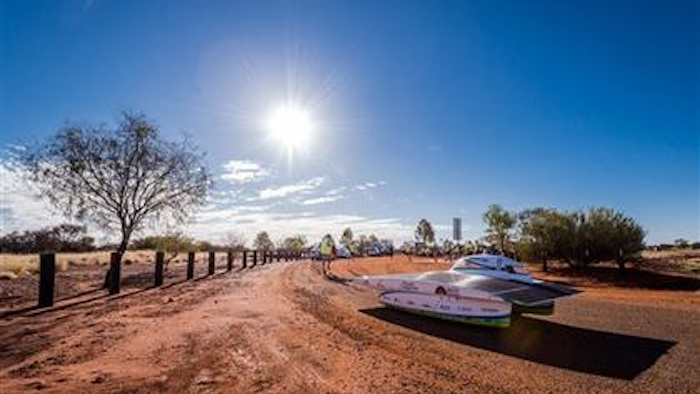 This week 45 teams from around the world pit their solar-powered creations against each other.
World Solar Challenge competitors took off on Sunday from Darwin and are racing to a finish line some 3,000 km (1864 miles) south in Adelaide. Racers are expected to start crossing the finish line today with the leaders making the journey at a clip of roughly 466 miles per day.
The biennial race hosts some of the most efficient electric vehicles in existence. The cars may use no more than 6 square meters of solar panels and store only 5 kilowatt hours of energy — which accounts for an estimated 10 percent of their trip. All other energy must come from the sun or the vehicles' kinetic motion.
So far, the leader in the Challenger class — the vehicles built for speed — was Nuon Solar Team from the Netherlands, moving at an average speed of 57 miles per hour. U.S team Stanford Solar Car Project is holding its own in the No. 6 spot, moving at a little less than 48 mph.
Certainly, these vehicles aren't road-worthy or passenger friendly, but they're using and perfecting technology that can be adapted for consumer vehicles.
Keep up to date with the racers, and track their progress here.
Do you think this solar technology will make an impact in the consumer market? Would you drive an all-solar vehicle if it moved at highway speeds? Comment below or tweet me @MNetKatie.