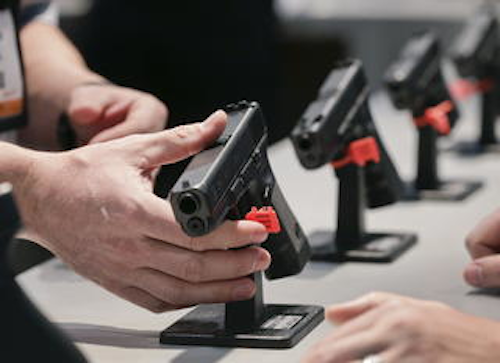 Check out some of this week's top headlines from across Manufacturing.net, from the GM recall report that blames incompetence and negligence for the recall that led to 13 deaths to an indictment for a gun dealer and Glock executives over $1 million in bribes and kickbacks.
Glock Execs, Gun Dealer Face Indictment
TOPEKA, Kan. (AP) -- Federal prosecutors have accused a Kansas firearms dealer of paying more than $1 million bribes and kickbacks to two high-ranking executives of Georgia-based Glock Inc. in exchange for preferential treatment and access to confidential company information.
A federal grand jury in Topeka on Wednesday handed down a 22-count indictment against John Sullivan Ralph III, 40, of Olathe; James "Craig" Dutton, 42, of Acworth, Georgia; and Welcome D. "Bo" Wood Jr., 65, of Oviedo, Florida. Dutton's wife, Lisa Delaine Dutton, 42; and Wood's wife, Paula Ann Wood, 63, also were named in the indictment.
All five are facing one count of conspiracy, 11 counts of wire fraud and 10 counts of money laundering, The Kansas City Star (http://bit.ly/1menSb1 ) reported. Continue reading...
---
GM: Incompetence And Negligence Led To Recall
WARREN, Mich. (AP) -- General Motors says a pattern of incompetence and neglect, not a larger conspiracy or cover-up, is to blame for a long-delayed recall of defective ignition switches.
GM CEO Mary Barra, who released the results of an internal investigation into the company's missteps on Thursday, said 15 employees — many of them senior legal and engineering executives — have been forced out of the company for failing to disclose the defect, which the company links to 13 deaths and 54 crashes in which the air bags didn't deploy. Five other employees have been disciplined.
GM also said it will establish a compensation program for families of victims and those who suffered serious injuries in accidents related to the switches. The program is expected to begin taking claims Aug. 1. Continue reading...
---
---
Reviving U.S. Manufacturing
America has been a very weak competitor in the game of globalization and has not used its power or legal rights to improve American manufacturing. I don't mean protectionist policies, I mean competing with foreign countries within the rules and guidelines in the agreement they signed with the World Trade Organization, to simply level the playing field. This includes incentives for American corporations that create jobs and make investments in the U.S.
The following describes the key issues facing American manufacturer that need to be addressed with action (not rhetoric). I think that the solutions offered by Scott Paul, President of the Alliance for American Manufacturing (AAM) make a lot of sense. Continue reading...
---
EPA Aims To Cut Power Plant Carbon By 30 Percent
WASHINGTON (AP) -- The Environmental Protection Agency on Monday will roll out a plan to cut carbon dioxide emissions from power plants by 30 percent by 2030, setting the first national limits on the chief gas linked to global warming.
The rule, which is expected to be final next year, is a centerpiece of President Barack Obama's plans to reduce the pollution linked to global warming, a step that the administration hopes will get other countries to act when negotiations on a new international treaty resume next year.
Despite concluding in 2009 that greenhouse gases endanger human health and welfare, a finding that triggered their regulation under the 1970 Clean Air Act, it has taken years for the administration to take on the nation's fleet of power plants. In December 2010, the Obama administration announced a "modest pace" for setting greenhouse gas standards for power plants, setting a May 2012 deadline. Continue reading...
---
Wal-Mart Facing Big Hurdles
The world's largest retailer faces new challenges at a time when low prices and one-stop shopping can be a few clicks away on a tablet computer or mobile phone.
Wal-Mart Stores Inc. built its reputation on everyday low prices and convenient supercenters that allow customers to do all their shopping in one place.
But revenue at established Wal-Mart stores in the U.S., which account for 60 percent of the company's total sales, has declined for five consecutive quarters. Meanwhile, the number of customers has fallen six quarters in a row.
Like many other retail chains that cater to working-class Americans, Wal-Mart is a victim of an uneven economic recovery that has benefited well-heeled shoppers more than those in the lower-income rungs. Moreover, shoppers are no longer willing to spend hours in big supercenters. They're turning to online competitors like Amazon.com, dollar stores and pharmacies. Continue Reading...
Every Friday, we will be rounding up the most popular news items of the week based on site traffic. Feel free to share your thoughts, questions or concerns by sending an email to amy.lawrence@advantagemedia.com.